Local
Boston Pride withdraws invitation to police officer to serve as parade marshal
The organization says the officer made offensive comments on his Facebook page.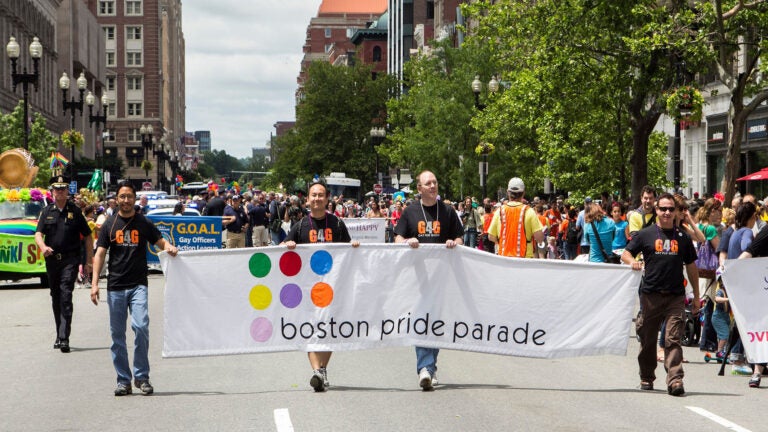 Boston Pride has withdrawn an invitation to a police officer to serve as the 2016 Pride Parade's marshal after the organization says it found comments it deemed offensive on his Facebook page.
Anthony Imperioso, a member of the Woburn police force and president of the New England Gay Officers Action League, was elected as the parade's marshal by a community vote. Boston Pride rescinded the invitation Monday after speaking with Imperioso, according to a statement.
"As an inclusive organization, Boston Pride does not condone any language that is intolerant of racial, ethnic, or religious differences," the statement said. "Additionally, we reject language that promotes violence towards any individuals who are exercising their First Amendment rights."
The organization did not say what comments led them to rescind Imperioso's marshalship, but his Facebook page had multiple public posts regarding Black Lives Matter protestors who blocked traffic on I-93 last year by chaining their arms together through barrels. Screenshots of the posts were sent to Boston Pride on Twitter Sunday.
"Maybe we patriotic Americans should start protesting welfare offices and blocking those entrances then these lazy illiterates will go away," a post on Imperioso's page read with an article about the incident. "Oh and by the way the police need to start locking all of those people up." Another post referred to protestors as "unpatriotic anti-American trash."
Imperioso's page was no longer available as of 4 p.m. Monday.
Going forward, Boston Pride says it will review its nominating process for the parade's marshal to ensure the selection is fair to all groups, regardless of racial, ethnic, or religious differences.
"Boston Pride apologizes for the lack of vetting that occurred in the Marshal nomination process this year," the statement said. "Boston Pride will continue to work to foster a dialogue within the LGBT community between groups, and will continue to work with members of the community to create a more just society for all."
Imperioso and the Woburn Police Department did not immediately respond to request for comment.