Local News
Police stepping up efforts to nab distracted drivers
"It's just not worth it."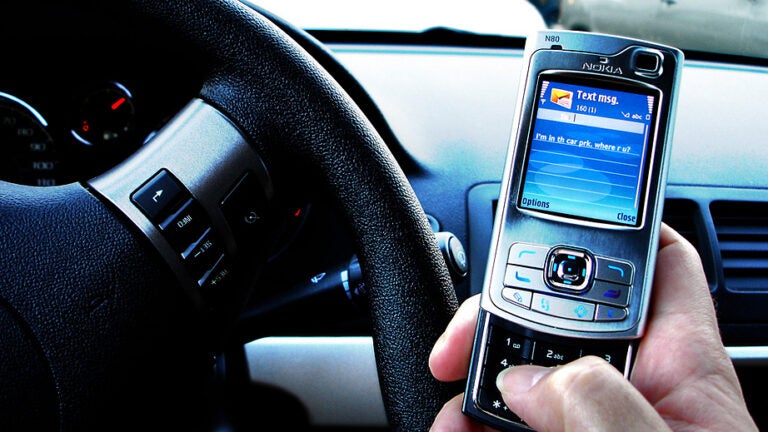 Distracted drivers, beware.
At least 141 police departments across Massachusetts will step up their efforts to find and ticket distracted drivers starting April 8, said Jeff Larason, director of the state's highway safety bureau.  The three-week effort is being funded by a $622,000 grant from the National Highway Traffic Safety Administration as part of National Distracted Driving Awareness Month.
In Andover, officers will work four-hour shifts that focus solely on distracted driving, said Officer Charles Heseltine, executive director for the Andover Police Department. They'll be looking to see if drivers are holding devices and wearing headphones. They'll also be looking for drivers who look down a lot.
"You see it every day," said Heseltine. "We all do."
The statistics are sobering. In 2014, there were 3,179 people killed and 431,000 injured in car crashes involving distracted drivers, according to distraction.gov.  The National Highway Safety Administration estimates that 49 percent of adults say they've been a passenger in a car while a driver was texting. A National Safety Council survey released last month found that 74 percent of drivers would use Facebook behind the wheel. And 71 percent of young people say they've sent a text while driving, according to distraction.gov.
Drivers who text  take their eyes off the road for an average of five seconds, according to a 2013 study by the Virginia Tech Transportation Institute. At 55 mph, that's like driving the length of a football field — blindfolded.
"It's a big problem," said Larason. "Across the country in the last year, the crash rates have been increasing. It's very likely that the increasing levels of distraction in the vehicle are a big part of that."
Drivers caught face a $100 fine for a first offense, even if the vehicle is stopped in traffic, according to police. Teen drivers under the age of 18 are prohibited from using phones at all while driving, even to make calls. Teens under 18 caught using a phone behind the wheel are fined $100, must take a driving attitudinal course, and face a 60-day license suspension.
"No message on your device is worth taking your eyes off the road, risking the public as well as yourself," said Heseltine. "It's just not worth it."