Local
Officials outline 2016 Boston Marathon security plans
From the public's perspective, it will look a lot like last year.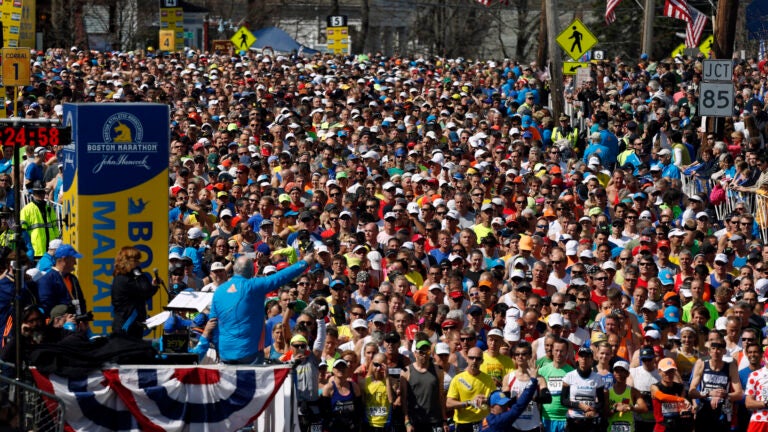 Security checkpoints, video cameras, and legions of uniformed and plain-clothes officers will line the Boston Marathon route in less than two weeks. Officials are asking spectators not bring big bags, backpacks, or coolers and say the public can expect bag checks. They suggest race viewers instead store personal items in clear plastic bags. And, for the second year in a row, flying robots will be banned from hovering above the race, which has been dubbed a "no drone zone."
The security measures take a similar approach to the precautions taken ahead of the 2015 race. It will be the third year of heightened security since the 2013 Boston Marathon bombings.
"To the public, it will probably look and feel the same," Kurt Schwartz, director of the Massachusetts Emergency Management Agency, said at a Wednesday morning press conference.
That doesn't mean the security plan — six months in the making and coordinated between local, state, and federal law enforcement agencies — isn't without changes from last year. But the adjustments will be mostly tactical and behind the scenes, officials said.
Those changes, which officials declined to detail, factor in lessons learned from terror attacks in San Bernadino, Paris, and Brussels in the last year, said Hank Shaw, special agent in charge of the Boston FBI office. Security officials have increased preventative security measures ahead of the race every year since 2014.
Boston Police Commissioner William Evans recently told the Associated Press he had planned to run this year's race, but decided not to after the Brussels attack last month.
Shaw said Wednesday that there is no current intelligence indicating the marathon route is facing any sort of threat, nor have there been any credible threats made to the regional transportation system, according to MBTA Transit Police Chief Kenneth Green.
The FBI will monitor the digital side of things ahead of and during the race, Shaw said, with "tripwires" set that could pick up indications of a security threat communicated online. "I feel at this time, we are postured to deal with any of those threats," he said.
"We're not in the business of doing wholesale, bulk data analysis," he added. "We can't do that. But we have investigations, or assessments, out there. We're in turn looking within those appropriate areas that may in turn provide us with intelligence that there's something going on."
On Patriots' Day, any access point to the Boston race route from Audubon Circle to the finish line will require passing through a security checkpoint, according to Boston Police Deputy Superintendent Bill Ridge. He declined to give an exact number of checkpoints or say how many people will work them. In Hopkinton, where the 26.2-mile jaunt begins, the town will utilize the same enhanced security checkpoint system it used the last two years, with several screening locations near the start line, said Chief Edward Lee.
Authorities will still ask to check spectators' bags  along the race route in other towns that do not use enhanced checkpoints, Schwartz said.
Spectators are being asked not to carry weapons, glass containers, cans, flammable liquids, poles or sticks to mount signs on, and other items specified here.
Officials are also asking the public to alert security personnel or call 911 on the day of the race if they see anything suspicious. And they are once again asking the public to not participate in the once time-honored tradition of "bandit" running the race — entering despite not being a registered runner.