Local
North End billboard from group that denies Armenian genocide removed
The billboard is near the Armenian Heritage Park.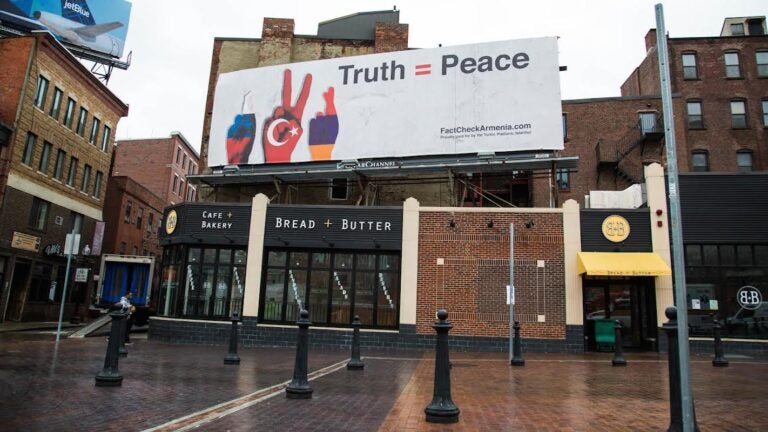 A billboard in the North End that was paid for by a group that denies the Armenian genocide was placed there "in error" and is being removed, a spokesman for Clear Channel Outdoors said in an email on Thursday.
The billboard, which is located just a few blocks from the Armenian Heritage Park, had sparked criticism on Wednesday night for its references to genocide-denial.
Horrific billboard in Boston's North End, denying the Armenian Genocide. @marty_walsh, do something. @universalhub pic.twitter.com/oi3old3SD8

— Elizabeth Weinbloom (@LizWeinbl) April 6, 2016
"Truth = Peace," the sign says. A hand with the flag of Turkey holds up two fingers in a peace symbol, while hands with the flag of Russia (left) and Armenia (right) have their fingers crossed in the symbol of lying.
The text of the billboard directs readers to FactCheckArmenia.com, a website that dismisses the genocide as "propaganda being pushed by a powerful and well-funded Armenian diaspora." The billboard says it is "proudly" paid for by the Turkic Platform, Istanbul.
By mid-morning, the billboard had already been taken down.
That billboard that seemed to deny the Armenian genocide in the North End? Gone as of this AM. pic.twitter.com/ehlmJKhbUC

— KarynRegalWBZ (@Karynregal) April 7, 2016
"It's like a stab," said Aaron Derderian, the chairman of the Armenian Church Youth Organization of America at the St. James Armenian Apostolic Church in Watertown. "It was a surprise to see it placed right there [next to the park]."
According to the United Human Rights Council, Armenians living in Turkey were systematically killed and deported by the Ottoman Empire from 1915 to 1918.
The massacres sparked an exodus of Armenians immigrating to the United States, and particularly to Boston and Watertown. About 25,000 people of Armenian heritage live in Massachusetts, the second-largest population among all states. Last year, Armenians worldwide commemorated the 100th anniversary of the genocide.
The billboard is located at the corner of Cross St. and Salem St. in the North End along the Rose Kennedy Greenway. That's just a few blocks from the grassy labyrinth and abstract sculpture at Armenian Heritage Park, which opened in 2012 to honor Boston's history of immigrants.
"This billboard denying the Armenian Genocide is no different and just as offensive as one denying the Holocaust," said Robert O. Trestan, the regional director of the Anti Defamation League.
Last year, a similar billboard, also paid for by the Turkic Platform, was taken down after sparking criticism.