Local
Mayor Walsh, Gov. Baker, victims' families lay wreaths at sites of Boston Marathon bombings
April 15 marks the third anniversary of the attack.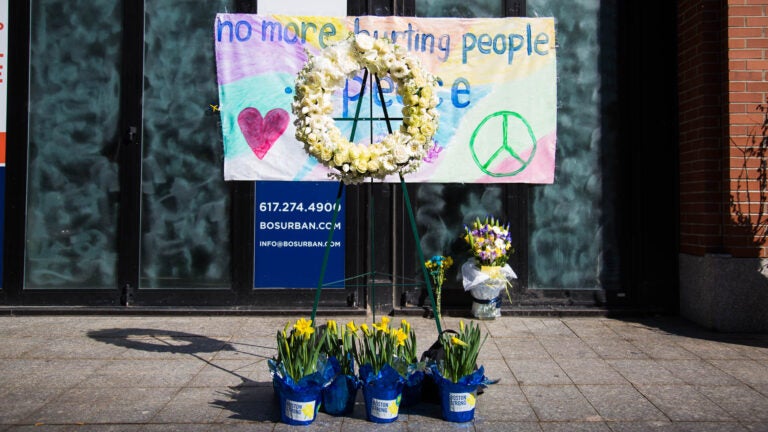 Boston Mayor Marty Walsh and Massachusetts Gov. Charlie Baker honored the victims of the Boston Marathon bombings Friday morning by laying wreaths at the locations where the bombs went off on Boylston Street.
Walsh laid a wreath outside of Marathon Sports, and Baker placed one outside the site of the now-closed Forum restaurant, the two locations where bombs detonated on April 15, 2013, killing three and injuring more than 260 people.
Those killed were 8-year-old Martin Richard, 23-year-old Lingzi Lu, and 29-year-old Krystle Campbell. Campbell's father and other relatives and Martin's family, including his father, Bill, mother, Denise, sister, Jane, and brother, Henry, were in attendance. Bill Richards and a man believed to be a relative of Lu helped position the wreath in front of the old Forum restaurant location, according to The Boston Globe.
Survivors and first responders, such as Carlos Arredondo, known as the "man in the cowboy hat," also attended the wreath ceremony, according to the Globe.
 April 15 is now known as "
One Boston Day
," a day for the city to honor the anniversary of the bombings by spreading goodwill. According to
onebostonday.org
, more than 10,000 people have pledged to do an act of kindness on Friday.
Walsh will lead a moment of silence on City Hall Plaza at 2:49 p.m. Friday, the exact time at which the first bomb went off in 2013, to mark the third anniversary of the attack.