Local
Watch crews move this Massachusetts church to make way for a casino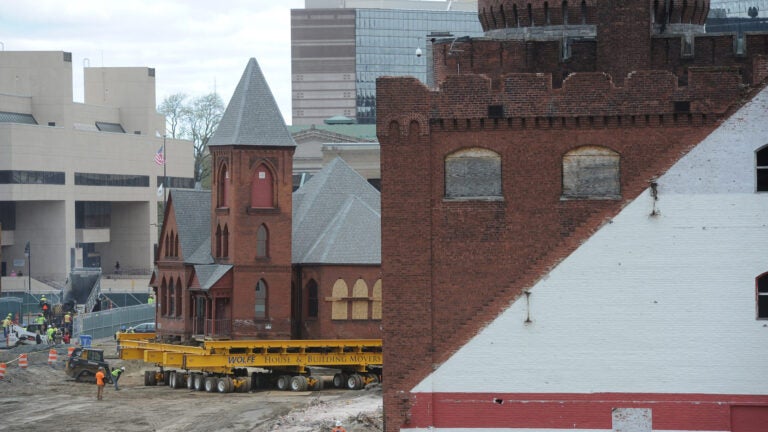 SPRINGFIELD, Mass. (AP) — A historic Massachusetts church started slowly rolling along the street Tuesday to make way for a nearly $1 billion casino.
After weeks of preparation, crews began moving Springfield's 129-year-old First Spiritualist Church about two football-field lengths, where it will eventually stand next to a skating rink within the MGM Springfield casino's 14-acre footprint.
''I think if you look at the definition now of Holy Roller, that might fit the bill right there,'' Mayor Domenic Sarno said as the brick church with its 68-foot tower inched its way along behind him.
Workers with Pennsylvania-based Wolfe House and Building Movers had jacked up the church and had placed it on an array of wheeled-dollies to inch the building to its new location. They hoped to have the 475-ton building over the new foundation later Tuesday, Wolfe spokesman Kendal Siegrist said.
Relocating the 68-foot-by-43-foot church is part of MGM's historical preservation commitment to the city. The $950 million resort casino is expected to open in the fall of 2018, and the casino's gambling floor will be on what was once the church's home.
''Today's church relocation marks an exciting milestone for this project,'' said Brian Packer, MGM Springfield's vice president of construction and development.
The high Victorian Gothic structure was originally known as the French Congregational Church. It was built in 1887 for the French-Canadian Huguenots, who worked in the Smith & Wesson gun plant, according to state records.
Daniel Wesson, one of the gun-maker's founders, was a major church sponsor. The Protestant congregation eventually gave up the church because of dwindling membership, and it was sold in 1919 to the First Spiritualist Society.
The Spiritualists moved from the church in 2013 to a new location in nearby Chicopee. The building has been on the National Register of Historic Places since 1983.
A new use for the church has not yet been determined.