Local
Kinder Morgan suspends work on Northeast Energy Direct gas pipeline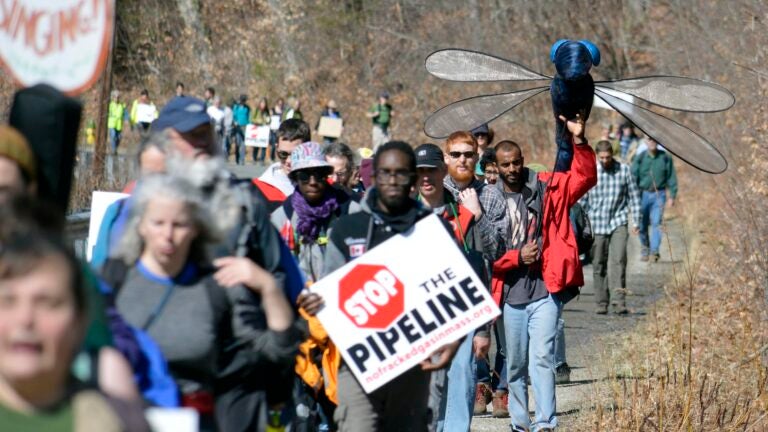 Kinder Morgan said Wednesday it has suspended work and spending on a controversial proposed pipeline that would have transported shale gas from Pennsylvania to New England.
The reason: Kinder Morgan and its subsidiary, Tennessee Gas Pipeline Company, did not receive the level of contractual commitments it expected from customers in the region, the energy company said in a statement.
The proposed $3.3-billion Northeast Energy Direct project would have comprised 430 miles of pipeline running through New York to Massachusetts and New Hampshire to supply the Northeast U.S. with natural gas.
"Unfortunately, despite working for more than two years and expending substantial shareholder resources, TGP did not receive the additional commitments it expected," Kinder Morgan said of the project, which was originally authorized by the company in July 2015.
Several factors caused the insufficient commitments, according to the company.
First, New England states did not have regulatory procedures to facilitate binding commitments from local electric companies. Second, a low-price energy market, "while good for consumers," Kinder Morgan said, made it difficult for producers to make long-term commitments.
The pipeline had been greeted with stiff opposition from politicians, such as Massachusetts Sen. Elizabeth and Vermont Sen. Bernie Sanders, as well as environmentalists and local residents who live close to the pipeline's proposed route.
Kinder Morgan said Wednesday it "remains committed to meeting the critical need for constructing additional natural gas infrastructure" in the Northeast and will work with local parties to explore alternatives.
Junior Massachusetts Sen. Ed Markey celebrated the announcement, noting that he has opposed the pipeline over concerns of its potential impact on local communities and climate change.
"Using New England as a throughway to export U.S. gas to overseas markets might be good for the bottom lines of pipeline companies but it could raise prices and be a disaster for consumers and businesses in our region," Markey said in a statement Wednesday.
"We need to build on the work that we have done in New England to move to a clean energy economy," the Democratic senator added. "And we should create jobs in New England by working smarter not harder when it comes to using natural gas through increasing efficiency and repairing and replacing our aging and leaking natural gas distribution pipeline infrastructure."
Fellow pipeline opponent and Massachusetts Senate President Stan Rosenberg called the decision to suspend the project a "game changer."
"This allows us to have a broader discussion about how to meet Massachusetts' energy needs," the Amherst Democrat posted on Facebook.