Local
MBTA accused of not stopping troubled officer in civil rights suit
The suit says that the MBTA failed to properly supervise former transit officer Jennifer Garvey, who is facing charges in a beating at Dudley station in 2014.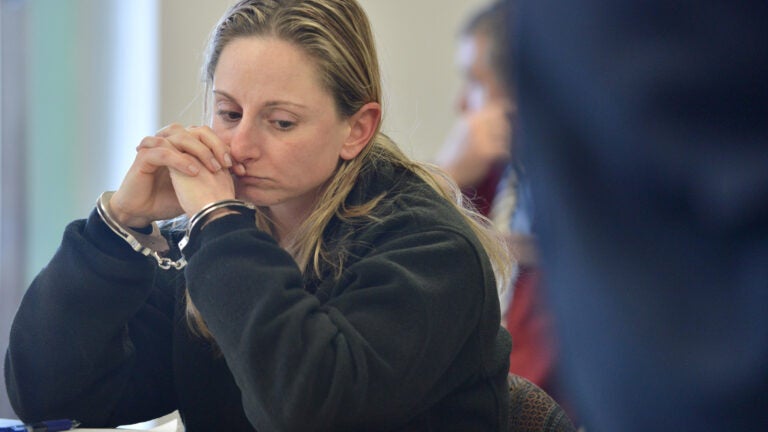 The MBTA knowingly hired a police officer with a troubled past, and then ignored repeated alerts about her behavior in the years before she assaulted and filed false charges against a woman in 2014, according to a federal civil rights suit complaint.
The suit, filed on behalf of Mary C. Holmes back in August by the American Civil Liberties Union and civil rights attorney Howard Friedman, initially only named transit police officers Jennifer Garvey and Alfred Trinh.
On Thursday, Holmes added the MBTA as a defendant, saying the transit organization failed to properly supervise, investigate misconduct, and discipline its police officers.
"These policies and customs allowed MBTA police officers to believe they could violate the constitutional rights of civilians like Ms. Holmes with impunity," the suit states.
MBTA spokesman Joe Pestaturo said Thursday that the transit authority doesn't comment on pending litigation, but that "the safety of all customers is of the highest priority and the Transit Police works hard to engage constructively with the community to protect the public on MBTA property."
The suit alleges that the MBTA hired Garvey in 2008 even though officials knew she'd been bypassed by the Worcester Police Department. They say she was also rejected by another, out-of-state police department.
The MBTA also knew about Garvey's 2005 arrest for assault and battery, the complaint says. That case was continued without a finding with the comment that "evaluation for counseling and counseling are deemed appropriate."
"The MBTA nevertheless decided to hire Defendant Garvey as a transit police officer," the complaint said, "ignoring these and other serious warning signs that Defendant Garvey was prone to violence and not temperamentally suited to employment as a police officer."
Once she became a police officer, Garvey repeatedly triggered the MBTA's early warning system — designed to identify overly aggressive officers — a dozen times for at least four different reasons, the complaint alleges. Two of the triggers came after she had 10 or more incidents within 18 months.
After Garvey returned from military leave in August 2010, she began racking up internal and civilian complaints, the suit says. Six civilians filed formal complaints alleging assault and aggression, excessive force, and unprofessional conduct. She received five other administrative complaints.
She was only disciplined for two of the internal complaints — two separate one-day suspensions for being AWOL and acting discourteous — the complaint states.
Holmes said she was at the Dudley MBTA station in March 2014 when she saw Garvey screaming at and then assaulting a woman. When Holmes tried to intervene — first by telling the woman to obey the officers, then by telling Garvey to stop yelling, and finally by calling 911 — she said she was attacked by Garvey and Trinh. Garvey slapped the phone out of Holmes' hand, she said, and then hit her with a baton, slammed her onto the curb, and handcuffed her.
Holmes was arrested, held overnight in jail, and later charged with assault and battery on a public employee, resisting arrest, and disorderly conduct.
Four months later, Suffolk County prosecutors saw videos of the incident and dismissed the charges against her. Holmes filed a complaint and Garvey was initially exonerated after Holmes complaint, though the video was available to MBTA officials, the suit says.
In December, Garvey was indicted on charges of assault, filing a false report and civil rights violations, and she was fired two weeks later. The case is still pending.
"The MBTA police have a saying — 'see something, say something,'" said Carlton Williams, an attorney for the ACLU. "That's exactly what Mary did. And they didn't hold up their end of that bargain."