Local News
What legal marijuana in Massachusetts would mean for your town
Proponents and critics disagree about whether the upcoming ballot question would give cities and towns enough control over pot.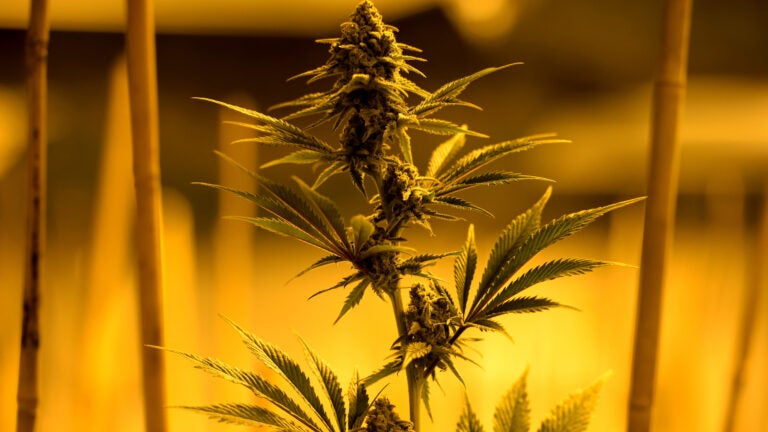 If Massachusetts voters legalize recreational marijuana this November, that probably would not be the last vote many of the state's residents would see on the matter. The ballot question voters will likely face this fall could lead to a torrent of municipal ballot measures if towns and cities seek to ban or limit the number of marijuana retailers in their boundaries.
Under the proposed law, local officials would have the ability to restrict the number of marijuana stores in town. But those powers to enact limits would have limits of their own.
If local officials moved to ban marijuana retailers, cultivators, testing facilities, or product makers from operating in their communities, they would need to hold a community-wide local referendum and receive majority support from the public to enact the ban.
That's distinct from Colorado, which legalized marijuana in 2012 and often serves as a comparison for the proposed Massachusetts law. The constitutional amendment that legalized marijuana there allowed local officials to ban pot facilities without going to a popular vote, according to Mason Tvert, a spokesman for the Marijuana Policy Project, which sponsored the Colorado ballot initiative and is backing the Massachusetts measure.
Massachusetts municipal leaders would also need local ballot box approval if they tried to limit the number of recreational retailers within their borders to fewer than the number of medical marijuana dispensaries they host. The same would go for any effort to limit the number of local pot shops to less than 20 percent of the community's count of liquor stores. Neither provision exists in Colorado.
For example, Boston is home to 238 liquor stores, according to state records. So an effort to limit marijuana stores in the city to fewer than 48 — which is 20 percent of 238 — would require approval in a community-wide election. A smaller town, like Milford, with 17 liquor stores, would need to go to the ballot if it wanted to restrict local marijuana retailers to fewer than four.
The Campaign for a Safe and Healthy Massachusetts — a group opposing the law, backed by Gov. Charlie Baker, Boston Mayor Marty Walsh, and House Speaker Robert DeLeo — cites limited local control as a criticism of the ballot question on its website. Dan Delaney, a medical marijuana lobbyist who is running a separate anti-legalization campaign, has also said limited local control is one of his chief issues with the proposal.
"This ballot question was written by and for the commercial marijuana industry, and puts in place significant roadblocks for local communities to control the growth and location of marijuana shops," Campaign for a Safe and Healthy Massachusetts spokesman Corey Welford said in a statement.
Welford said the local referendums required for a town to opt out of hosting marijuana facilities are "in direct contrast to the absolute local control communities were given to restrict the casino industry." The state's 2011 gambling law required local voter approval for any casino plan to move forward.
Jim Borghesani, communications director for the Campaign to Regulate Marijuana Like Alcohol, the group pushing for legalization, said that since municipal officials would have the power to regulate acceptable locations for pot facilities, the hours they could operate, the facilities' signage, and — to an extent — the number of stores allowed, the proposed law offers "adequate local control." He also pointed to a local tax provision, which would allow municipalities to tax up to 2 percent of local marijuana sales.
"These are significant local control issues that do not require a ballot vote," he said.
Borghesani said the provisions requiring local ballot questions for bans or strict limits on retail stores are meant to protect the outcome of the statewide question in November, should voters approve legalization.
"If this initiative is passed by the voters, then any attempt to subvert the voters' will should also go to the voters," he said.
Borghesani called Welford's casino comparison an "overreach," and said the sale of alcohol, legal in all but eight Massachusetts towns, is more valid. After the end of alcohol prohibition in 1933, every city and town opened for the sale of alcohol — though until 1966, towns and cities held referendums every two years over whether to continue the practice, according to archived media reports and a review of state law.
The end of alcohol prohibition also allowed Massachusetts towns to decide whether to allow taverns in their boundaries. That historical measure would be echoed by another portion of the marijuana ballot question: If state marijuana regulators eventually choose to license cannabis cafes for on-site consumption, local referendums would determine whether cities or towns could host them.
The Massachusetts Municipal Association, which represents local governments, is studying the legalization initiative and has not taken a position yet, said John Robertson, the association's legislative director. Municipal leaders' comfort level with the amount of local control will play a "very important" role as the MMA shapes its position on the ballot question, he said. The MMA — which includes Walsh, a leading marijuana legalization opponent, on its board — advocated for more local control for towns and cities after medical marijuana was approved by voters in 2012.
Robertson said the MMA is scheduled to meet with the Campaign to Regulate Marijuana Like Alcohol in May.
"There are a lot of questions, really," he said. "We haven't heard from local officials with particular positions they've developed. … [They want to know] what the ballot question would mean to them, to individual cities and towns."