Local
Husband and wife who met at Boston College more than 60 years ago die within 6 hours of each other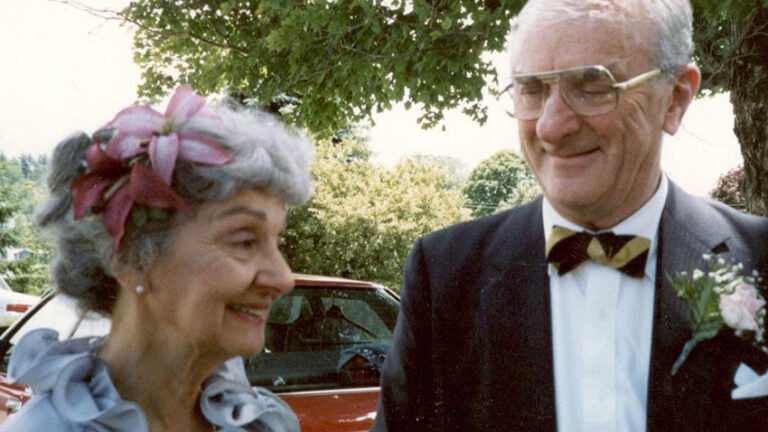 A Maine couple who met at Boston College in the 1950s left the world in the same way they navigated it for more than six decades — together.
On March 23, Robert and Lucille Robinson entered hospice care at Foreside Harbor in Falmouth, Maine. On Wednesday, Robert, 95, passed away peacefully. Lucille, 93, who was sleeping beside him, died just six hours later.
Their simultaneous passing came as a surprise to their family, their daughter Maryann Robinson told Boston.com. Her mother was much sicker than her father, and she hadn't expected him to die so suddenly.
"They were right there, side-by-side in bed, still holding hands through it all," Maryann said. "I think my dad, being a patriarch of the family, just thought, 'I'm gonna go check this place out and see if it's a good place for Lucille and me.'"
The couple leaves behind their four children, Robert Jr., Maryann, Mark, and Michael, and nine grandchildren.
The two came from different backgrounds, Maryann said, but had an immediate spark and connection.
Born in New York City, Lucille grew up in an Italian-American community. She studied at the Long Island College Hospital School of Nursing before joining the Navy as a registered nurse and serving in World War II, caring for wounded soldiers on a North Carolina military base. In 1948, she enrolled in the nursing school at Boston College and received her B.S. two years later, spending two more years on the nursing faculty while also working at Massachusetts General, Boston City, and Newton-Wellesley hospitals. She was also the player-manager for the Boston College women's basketball team.
Meanwhile, Robert, who was born and raised in Portland, Maine, also served in the war, enlisting in the Army and going to France and Germany to build bridges and clear minefields. When the war came to a close, he enrolled in Boston College and studied economics, later pursuing a law degree at the school.
It was there, in 1952, that Robert and Lucille met at a party during Lent. Most of the students were religious at the predominately Catholic college, but Robert caught Lucille's attention after someone asked what time the Mass services would be held, and he rattled off schedules at local churches, their daughter said. In turn, he remembered her as the woman who had handed him a warm beer.
A few days later, Robert saw Lucille on campus, recognizing her by her trademark, New York City-style fashionable hat. Their first date was at the Lenox Hotel just outside of Copley Square, where he teased her for giving him a lukewarm beer a few days earlier, and he ordered cold beers for each of them. They were married the same year.
The Robinsons then moved to Maine, where they raised their four children. Both involved their children in their separate hobbies — Robert took them to the sea and taught them how to trap lobsters, while Lucille wove rugs, eventually pulling wool and material from their children's baby blankets and weaving it into heritage rugs for her grandchildren, Maryann said.
Throughout their six-decade marriage, they also maintained separate, professional lives. In the 1960s, Robert co-founded a Portland law firm, practicing in state and district courts as well as the First Circuit Court of Appeals and the U.S. Supreme Court. Lucille became the director of clinical instruction at the Mercy Hospital School of Nursing and also organized events at their church. Her service earned recognition from Pope John Paul II, who gave her the honor of Dame of the Order of St. Gregory.
But Boston remained central to the couple's love story and lives.
"My dad's friends that he met from BC, he kept for life," Maryann said. "The ties with Boston were always very strong. The irony is that two of my brothers met and fell in love with their wives at BC as well."
Mark and Michael, following in their parents footsteps, met their wives, Colleen and Michele, while attending the school in the 1970s and 1980s, respectively.
While Maryann and her brothers are grieving the sudden loss of both of their parents, she said they're grateful for the many years they had with their parents, and take comfort in the thought that they never had to be without one another.
"The things that they imparted to us on love is to always make sure the love is there, the respect is there, and to truly listen to one another," Maryann said. "I think just always really having that love and respect for one another filtered down through our family really just made us so close and has helped us to deal with their loss."