Local News
Lots of questions and no easy answers at first Boston police body camera meeting
Community members, city councilors, cops and activists gathered in Roslindale to discuss what Boston's pilot program for police body cameras might look like.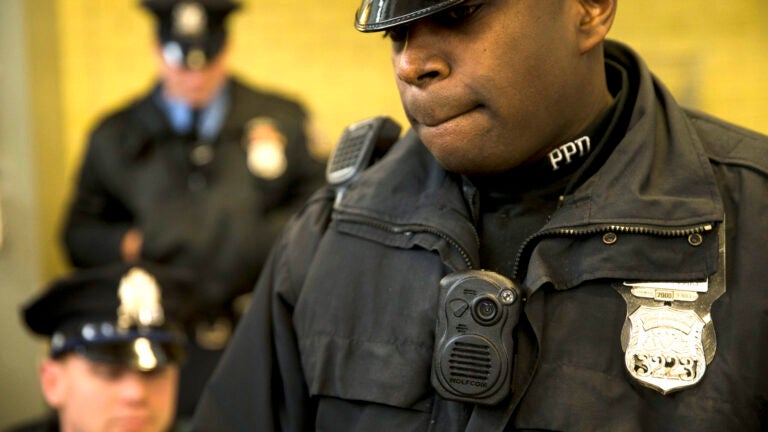 At some point this year, 100 Boston police officers will have cameras strapped to their chests. Much less certain is how they'll be used.
What types of officers will wear them? Where will they be allowed to record? What will happen with the footage? Who can access it, and for how long?
At the first of three community meetings on a body camera pilot program organized by the Boston City Council, even what seemed like should have been a simple yes or no question — should officers be able to record inside someone's home? — led to a discussion about consent, privacy, and domestic violence issues.
It's the type of question councilors Andrea Campbell and Tim McCarthy and the members of the city's social justice task force want to debate before the rollout of the body camera pilot program. The program will last six months, and at the end, an outside researcher will evaluate it.
"It's not just putting cameras on a police officer," said Jack McDevitt, a member of the task force and an associate dean of research at Northeastern University. "It's thinking about their rights and thinking about all of our rights as the community and how does that play out and how do we balance the two."
Two more meetings are scheduled — one Tuesday at Charlestown High School and another on Thursday at First Parish Church in Dorchester.
Many gathered at the Roslindale Community Center expressed concerns about the voluntary nature of the pilot program. Only those officers who choose to wear a camera will be outfitted. (The control group without cameras will also be made up of officers who volunteered.) A cadre of Boston police officers, including Superintendent in Chief William Gross, stood by to listen and answer questions.
"I think the people with the most complaints, they're the people we want to have cameras on," said Kevin Schofield, a 65-year-old Roslindale resident. He compared it to voluntary drug tests — only the people who know they're drug-free come forward.
While the pilot program would be voluntary, officials said, the ultimate program — if there is one — would be mandatory and likely bargained into the police union contract.
Other cities have seen successes after implementing body cameras. One study in Orlando, Florida put cameras on 46 officers while 43 others went without. They found that the officers who wore the cameras saw fewer use of force incidents and fewer serious complaints. And though the officers were initially skeptical of the cameras, by the end of the study, they wanted to keep them.
Two major stakeholders weren't at the meeting Monday: Police Commissioner William Evans and Mayor Marty Walsh. Last week, Evans said in an interview with Boston Herald Radio that he didn't think cameras were necessary.
"I know the momentum is for everyone having them, although I don't really think we need them," Evans said. "I think we've shown what kind of a class act department we are, but we are going to give them a try and see if the results are positive."
Ultimately, it will be up to Walsh whether Boston officers will wear cameras after the trial period. But some at the meeting expressed concerns that judging by Evan's comments, the pilot program would be for naught.
The Rev. Mark Scott, a member of the social justice task force, said a year ago, he felt like Evans. But after two high-profile fatal police shootings last year were captured on video — Angelo West in Roxbury in March and Usaamah Rahim in Roslindale in June — Scott changed his mind.
"We got lucky and had footage," he said. And he doesn't want to leave it to luck.
The camera footage won't only be used to implicate police officers, McDevitt said. It can also be used for training, or to exonerate an officer, like in the West case, which was recently ruled a justified shooting.
"The primary goal is police accountability, but it's not the only goal of the pilot," McDevitt said.
Sheika Scott, who has spent two years studying and advocating for body cameras as a cofounder of the Boston Police Camera Action Team, said just because Boston has seen a low number of police shootings and other killings, it doesn't mean the cameras aren't necessary.
"Body cameras are a  bigger issue than just shootings and killings," she said. "They can open up a door to what we don't see every day in the interaction between officers and civilians."