Local
Humpback whale washes up on Duxbury beach
The whale is at least the third humpback to end up on shore in the North Atlantic this week.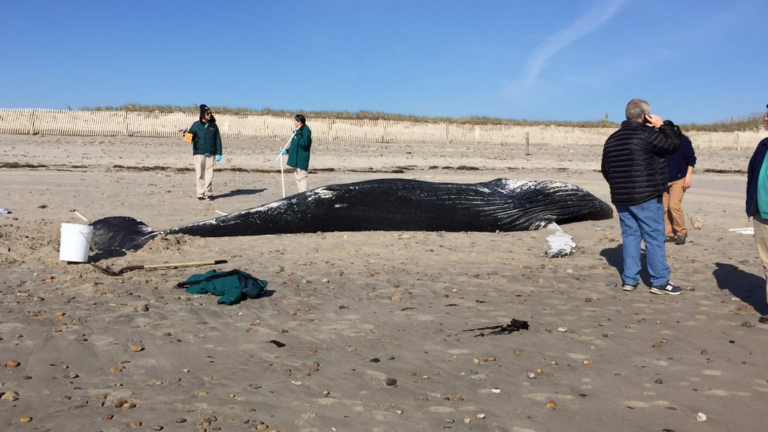 A humpback whale found dead on a Duxbury beach was towed away Wednesday morning.
Around 10:30 a.m., WBZ captured footage of the whale being towed by large construction equipment.
#SKYEYE4 capturing images right now of this beached humpback whale being moved by crews on Duxbury Beach. pic.twitter.com/Vtwo7TvgEX

— Daniel Pesquera (@DPesqueraWBZ) April 27, 2016
New England Aquarium spokesman Tony LaCasse told The Boston Globe that the 27-foot whale, a female between one and two years old, was first spotted floating in the water off Marshfield on Monday, and ended up on shore in Duxbury Tuesday night.
"She's quite skinny," LaCasse told the Globe, adding that the whale showed no signs of being hit by a boat or tangled in fishing gear. "We will see if there was some type of underlying health problem, or if she just wasn't able to forage well."
According to the Globe, state environmental officials recently issued a "high risk" warning to boat operators after 10 right whales — five pairs of mothers and calves — were spotted in Cape Cod Bay. Right whales are critically endangered, with experts saying there are only around 450 left in the wild and fewer than 50 in the North Atlantic Ocean region.
Tuesday's beaching isn't the only recent incident of a humpback whale washing up on shore in the North Atlantic Ocean. A humpback whale was found dead earlier this week on Hazard's beach in Newport, Rhode Island, while a humpback carcass was towed to shore in Amagansett, New York, one of the eastern-most villages on Long Island.
Rachel Bosworth, a spokeswoman for the Riverhead Foundation for Marine Research and Preservation in New York, told the East Hampton Star that it was too early to determine whether these incidents are related, but detailed reports will be sent to the National Oceanic and Atmospheric Administration (NOAA).
"At this time it is unclear whether any of these occurrences are related in any way," she told the Star, "and all organizations will be reporting their findings to NOAA."