Local News
It's complicated: Boston's love-hate relationship with the MBTA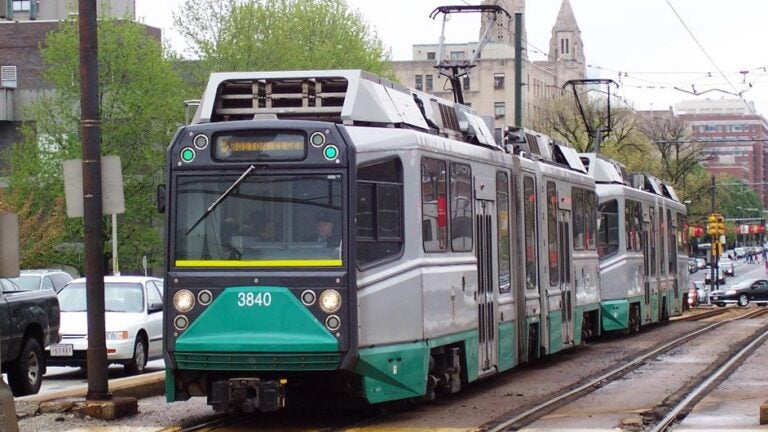 When Tanya Thrasher was moving to San Diego for grad school in 2010, she wanted to get a tattoo on her wrist to remind her of her native Massachusetts.
She didn't spring for a Red Sox "B," or a Dunkin' Donuts logo, or the Citgo sign. Instead, she opted for a capital T in a circle—the symbol of the MBTA, Boston's historic, essential, and often maligned rapid transit system.
When she got to San Diego, she noticed the tattoo attracted the attention of her fellow Boston expats.
"I'd get people kind of glancing at me," she said. "They'd say, 'What [Boston-area] city do you live in?' So it opened up conversation. It was really useful."
One thing she said never came up in the tattoo-driven chats: The gripes and complaints that color most discussion of the T in and around Boston.
Thrasher, who has since moved back to the area, is a regular T rider and is all too familiar with the system's issues: the delays, the struggles in poor weather, and the constant swirl of headlines highlighting the agency's financial and managerial struggles. It only takes a Twitter search for the term "MBTA" to see the kind of anger the system engenders from many of its riders. In the winter of 2015, which history has already enshrined as the ultimate test of commuters' patience, Thrasher felt self-conscious about the tattoo.
"There were days when I was stuck on a train holding the rail, looking at my wrist and being like, 'I'm such a jerk for having this,'" she said.
But Thrasher's experience in San Diego was indicative that it's not all hate, she said.
"Even though people have some terrible stories they can tell about the T, it has such a strong connection to Boston," she said.
While the T struggles with a $7.3 billion repair backlog and daily delays, that sentiment is evident in places other than Thrasher's wrist. Memorabilia bears the transit system's map and the agency's logo. The T was even featured in special sneakers released for the Boston Marathon.
So which is it? Does Boston love its transit system, or does it hate it? Or is it a little bit of both?
Separate tracks
Steven Beaucher, the co-owner of the Cambridge gift shop WardMaps, admits that he is sometimes late to work because of Red Line delays. The irony isn't lost on him: WardMaps is the official merchandising partner of the MBTA, selling licensed T products ranging from coffee mugs to toy trains, as well as antique items such as old MBTA signage.
But according to Beaucher, customers rarely, if ever, mention commuting struggles while perusing those commuting-inspired items and antiques.
"From a sales perspective, they're not connected," he said. "We've all been stuck on a train at one point or another. … There's still a desire to have that thing."
Beaucher thinks that when riders filter the commuting grind out of their overall feelings about the T, its charm is largely rooted in its history. Boston had the nation's first subway system, and its stations played a big role in how the city developed throughout the 20th century.
"I always had a wall between my frustration with the daily commute and my love for the history," he said.
The wall theory also resonates with Stephen Greyser, a Harvard Business School professor and an expert in branding and reputation. Greyser said the T is a service with a "concurrent duality": People may rely on something or have an affinity for it, but they'll complain about that product or service within that framework. He likens being a commuter when the T is having issues to being a fan of a losing pro sports team.
"People know they need it. They know the area needs it," he said. "But they complain about it. … And there's always some reason to complain about it."
Monica Tibbits-Nutt, a member of the T's control board whose focuses include the customer experience, said the agency will always expect some riders who complain for sport. But she sees those as distinct from "targeted complaints" about specific rider problems. If the T can improve service and communication to knock the targeted complaints down, it would be a customer service success, she said.
"Get those to go down a bit. The ones where they just say we suck, those can stick around because I think they always will," Tibbits-Nutt said. "We're so intimately involved in people's lives. They use us every day, multiple times a day. There's no way to be happy all of the time, and we understand that. But we do feel there's room to improve," she added.
Location, location, location
Last winter, local artist Laura Meilman released a calendar of sketches showing various T stops, capping off a long-term project she had undertaken to draw every rapid transit station.
After originally printing a few copies for family and friends, she decided to sell the "T-scapes" calendar online with little expectation for sales. But after it was noticed by local media, she wound up selling more than 400 calendars around the holidays.
Meilman is a commuter and transit enthusiast. But she doesn't think the interest in her art had as much to do with patrons' feelings about transit as it did the physical and geographic attributes of the stations. Even if people complain about the system — or, for that matter, even if they don't use it — their station is still a part of how they associate with home, she said.
"It's just the fondness of Boston that people have despite anything that might currently be going on," she said.
Most of the sales were local, Meilman said, but she received some orders from far-flung states and other countries.
"People would write me a note basically telling me they were really excited because they lived in Boston and this reminded them of home," she said.
A transit system provides a platform for a perverse form of civic pride, and it's not unique to Boston, said Columbia University professor of urban planning David King.
"It is very much the case that the transit system people rely on is the one they like the least," he said, adding that complaining about how a system runs "unifies" people.
"When you deal with something on a daily basis, you're put off by the minor annoyances and hassles you have to deal with," he said. "But when you go on vacation, you tend not to notice that. … You have a different expectation for travel time."
Motivated outrage
For some, mixed feelings about the T aren't separated by a barrier.
Few could be said to care as deeply about the T as the transit advocates who want a better system. For that reason, few are also as consistently critical of the system as it exists.
"It's out of love. I care deeply about public transportation. And I care deeply about the MBTA and all the regional transit authorities," said Rafael Mares, a vice president at the Conservation Law Foundation. "The criticisms are meant not about having less of it but about more of it. … It means a lot to people and that's why there is such focus on it. And that's also why people criticize it: Because we really need it to be good."
Arch Woodside, a Boston College professor of marketing psychology, prefers to go deeper down the rabbit hole when considering the love-hate relationship with the T. While advocates come from a place of constructive criticism, commuters may love to hate it, posited Woodside, a scholar of the work of the 20th century psychoanalyst Carl Jung. He theorizes that their complaints may satisfy deep-seated, primal needs.
"They're doing something very special — they're going out hunting, and bringing back the meat for their family. And by experiencing the obstacles and overcoming them, they are heroes," he said. "If it's a boring trip, time after time, it's not a big deal. And the story isn't exciting. The commuter needs to have something to be able to talk about, [to say] that they were a champion, that they overcame their problems."
Alexandra Vanegas, a daily commuter on the Red and Green lines who has a generally negative perception of the service, thinks the root of commuters' woes are much simpler: Delays, delays, delays (and she's also peeved with the upcoming fare hikes). Vanegas called the question of whether she loves or hates the T as "loaded," but said she doesn't love to hate the service. She'd prefer to love to love it. She doesn't see that happening any time soon, though.
"I don't think it's possible to love the train," she said. "It's always going to be this unfortunate love-hate relationship."
Correction: An earlier version of this article identified David King as a professor at New York University. He is a professor at Columbia University.