Local
Brush fire near Fenway sends smoke above city skyline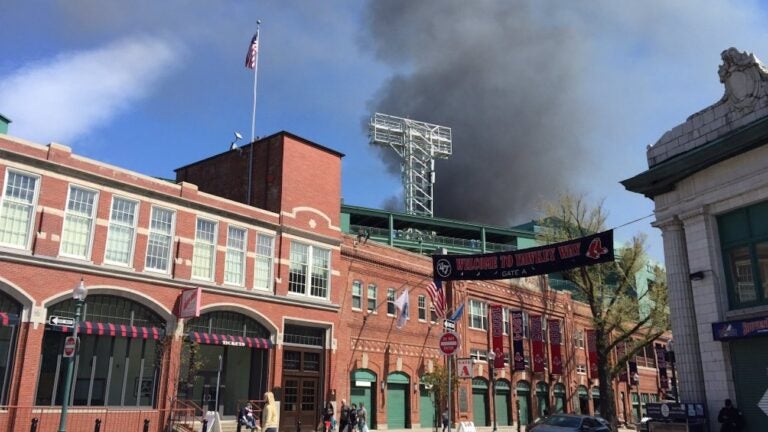 Large plumes of smoke rose above the Boston skyline on Thursday afternoon due to a brush fire in the Fenway neighborhood, Boston Fire Department spokesman Steve MacDonald said.
The one-alarm fire sent up billows of smoke in the neighborhood as firefighters worked to put out the blaze. According to MacDonald, crews arrived at the scene just before 2:30 p.m. and extinguished the fire around 4:30.
@7News pic.twitter.com/FMXOxCmCiy

— Bo White (@thefaceof_bo) April 28, 2016
Park Drive at Boylston Street, the Fenway at Agassiz Road, and Queensbury Street at Jersey Street were all closed due to the fire, according to state police.
McDonald said that without witnesses, it is difficult to determine the cause of the fire. He added that brush fires in the Fens occur a couple times a year due to prevalence of walkways leading to discarded cigarette butts, and the tall, dry reeds, as well as brush, growing in the park.
@universalhub Fire in Fenway pic.twitter.com/Yg4M3PIbry

— Andrew Ferreira (@drewferreira83) April 28, 2016
@universalhub Ash Thursday – Fens afire from afar pic.twitter.com/IC74lNPgit

— Perry Donham (@perrydBUCS) April 28, 2016
@universalhub Raging fire in Fens as seen from the Pru. #Boston pic.twitter.com/CcUiuRGjeU

— Mr. 309 (@Peter_the_Gr8) April 28, 2016