Local
Gordon College professor sues school, claims retaliation after speaking out on LGBT issue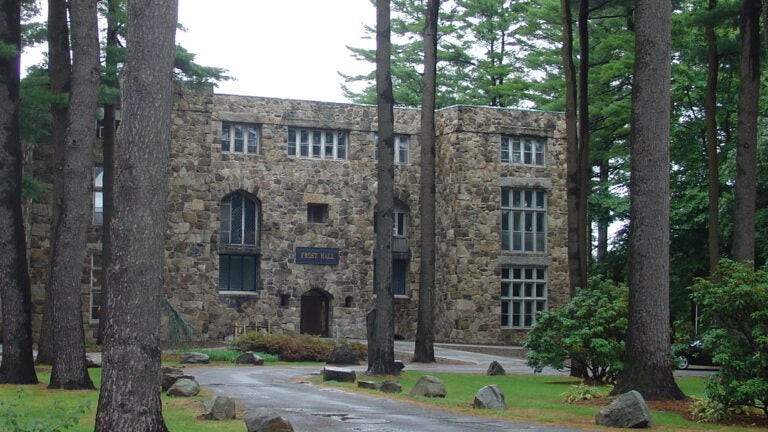 A Gordon College professor is suing the college, alleging that her employer retaliated against her and violated her right to free speech after she publicly denounced the school's stance against hiring LGBT people through federal contractors.
The ACLU of Massachusetts filed the lawsuit in Essex Superior Court on behalf of Lauren Barthold, who is a tenured philosophy professor at the Wenham-based Christian college. The suit alleges that actions Gordon administrators used to discipline Barthold violated state laws that prohibit retaliation for opposing discrimination, discrimination on the basis of sex, and interference with freedom of expression and association.
"This case is important to preserving academic freedom and preventing the violation, in the name of religion, of important rights to be free from discrimination and retaliation in the workplace," Joshua Solomon, an attorney with Pollack Solomon Duffy LLP who is working with the ACLU on the suit, said in a release.
On Thursday, college spokesman Rick Sweeney said the ACLU's release "grossly misrepresents what happened" in an email to Boston.com.
Barthold spoke out against a letter signed by the school's president, Michael Lindsay. Lindsay signed onto a letter, along with several Evangelical leaders, addressed to President Barrack Obama, asking that an executive order forbidding federal contractors from using discriminatory practices based on religion to deny positions to LGBT people not apply to the college. The controversy put the liberal arts college of just over 1,600 students on the national stage.
Separating herself from the school's views, Barthold penned a letter that appeared in The Salem News shortly after the news broke, voicing her discontent with the college's stance on LGBT rights.
"I am sad that I work at an institution that believes that not talking about homosexuality and silencing stories of Christians dealing with their sexual identities is the way to bring healing and build community," she wrote. "I am sad that Gordon cannot lead the way amongst Christian colleges by entering into the painful communal work of crafting institutional policy that maintains the integrity of a vibrant, 21st century faith."
According to the ACLU, Lindsay and the college's board of trustees threatened Barthold with termination last May, specifically basing the decision on her Salem News letter and quotes from an interview published in another article. They allegedly accused her of making "internal differences" public and "fostering an image of discord."
The termination threats fell through after Barthold hired an attorney, but the school continued to retaliate against her, leading her to file the suit, according to the ACLU. In it, Barthold alleges that Gordon College subsequently removed her from leadership positions among faculty, denied her the right to apply for a promotion she was scheduled to be considered for, and removed her from her position as the director of the gender studies minor.
"Although Gordon describes itself as a Christian liberal arts college, Gordon's faculty members like Lauren Barthold are not ministers, and Gordon is not a seminary or a house of worship," Soloman said in the release. "It is a liberal arts college and is subject to Massachusetts laws prohibiting retaliation against its employees, including its faculty, who speak critically about important issues of the day."
While Gordon College did not deny the disciplinary action allegedly taken against Barthold, Sweeney said school faculty based such decisions on a different rationale than Barthold claims.
"Gordon College was saddened and disappointed by the ACLU of Massachusetts' press release related to the discipline of Professor Lauren Barthold," he said in the email. "The ACLU's release grossly misrepresents what happened and why Professor Barthold was disciplined."
Sweeney said that Barthold's peers on the faculty senate voted to discipline her, saying she called for a boycott of the school that would have adverse effects for students, faculty, and staff. The decisions, he said, were not an attempt to suppress dialogue or hide differences within the community, and the college has brought LGBT speakers to the school and funded programs to support students.
"Gordon has encouraged a very healthy and open discussion of sexuality over the last few years," Sweeney said. "Professor Barthold's faculty peers voted to discipline her in a manner consistent with past precedent because her actions harmed the Gordon community and violated their trust."