Local
Yarmouth girl overwhelmed with mail after spinal surgery
"What an amazing show of love and support from all over the world!"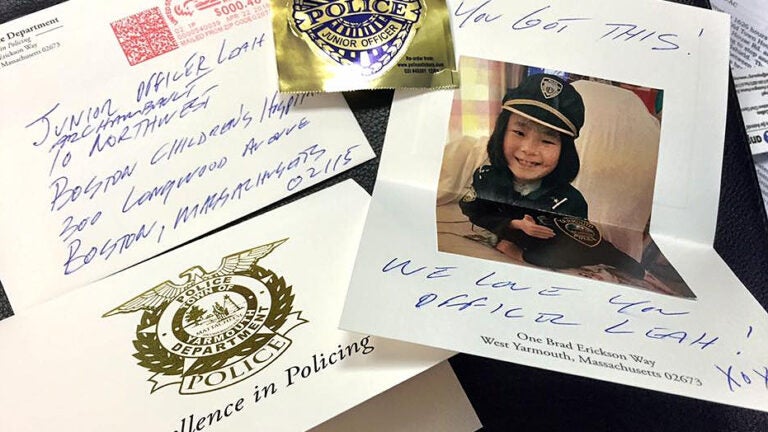 When an 8-year-old girl recovering from spinal surgery visited the mail room at Boston Children's Hospital this week, she couldn't believe her eyes.
The mail, stacked high in bins and envelopes and boxes, was all for her.
Leah Archambault, who has a rare spinal disorder called diastematomyelia, according to the Cape Cod Times, dreams of becoming a police officer. Her hometown police department in Yarmouth, where she is a "junior officer," coordinated the effort to send Leah well wishes during her stay at Boston Children's Hospital.
"What an amazing show of love and support from all over the world!" wrote Yarmouth police on its Facebook page. "The mail room staff has never seen anything like it and Officer Leah was overwhelmed."
When Yarmouth officers learned Leah would need a 12-hour spinal surgery last week, they turned to social media to make her smile.
"Leah rarely gets any cards in the hospital and we were hoping that you could help out by sending her a card," wrote police on Facebook. "She loves animals, horses, cars, Legos, and anything with a joke to it! She needs this surgery to stay alive."
The response from the public was overwhelming.
Police say the surgery was Leah's 10th in the past three years. And this one took place after the loss of her father, who died of a heart attack on April 6, reported the Times. Leah, who was abandoned as an infant in China, according to the Times, was adopted along with her two older sisters by Johanna and Randy Archambault of South Yarmouth.
"God bless her and her family and especially all of the dedicated doctors and nurses who worked so hard to give her a new chance at a better life," wrote police.
How is she doing now?
"She is doing pretty well and told us she is very happy to be several centimeters taller!" wrote Yarmouth police.
A large truck, donated by Cape Cod Express, will pick up Leah's mail from the hospital and deliver it to the Yarmouth Police Department.
"Thank you to the people all over the world for helping Leah smile again!" wrote police.
Leah's mom sent the following words of thanks to the Yarmouth police on behalf of her daughter, which they posted on their Facebook page:
"Standing Tall and Walking Proud…..Thanks to Yarmouth Police Department for all the encouragement and handling my publicity……I didn't plan on becoming famous through grueling surgeries. Today I took my first steps and plan on many more…..Love from Officer Leah"