Local
Feds call for less monitoring of New England cod fishery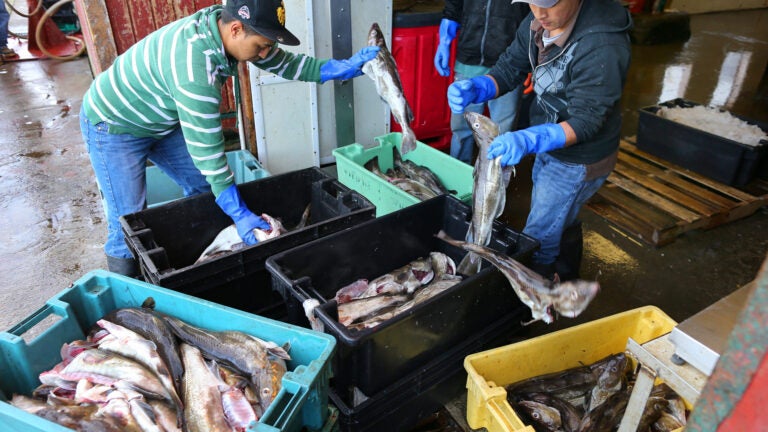 PORTLAND, Maine (AP) — The amount of at-sea monitoring that New England's cod fishermen will be required to submit to will be reduced in the coming fishing year, federal regulators have decided.
At-sea monitors are workers who collect data on fishing trips that helps inform fishing regulations. The government shifted the cost of paying for the monitors from itself to fishermen in the New England groundfishery earlier this year in a decision that riled the industry.
New England cod are in decline, and the industry argued that it can't afford another cost on top of tight quotas.
Fishermen were accompanied by monitors 24 percent of the time during the current fishing year, which ends on Saturday. The National Oceanic and Atmospheric Administration issued a report Friday that said it is reducing the rate of coverage to 14 percent, with industry picking up 10 percent of the tab starting Sunday.
The added expense is less than it is now but will still be a burden for a historic fishery steadily losing members, said Terry Alexander, a Harpswell, Maine-based groundfisherman and a member of a regional fishery management council.
The new fishing season starts Sunday.
"There's a lot of fish around — there should be, there's nobody left," Alexander said.
The new rules also apply to other commercially fished New England groundfish species such as haddock, flounder and pollock. The fish are popular at restaurants and in fish markets. The price of cod to consumers has held mostly steady because of foreign sources.
Environmental groups have argued that the level of monitoring should be increased. They argue that the cod fishery has suffered due to factors such as overfishing, warming oceans and poor reproduction and needs more data. The services of the monitors can cost about $700 per day.
"New England's fisheries cannot tolerate more mismanagement and careless disregard for recovery. It is crucial that we put more eyes on the ocean — not less," said Gib Brogan, fisheries campaign manager for Oceana.
The government's decision to shift the cost of the monitors to industry is the subject of a federal lawsuit brought by a group of fishermen led by David Goethel, a New Hampshire harvester of cod and haddock who believes the move is unconstitutional. An attorney for Goethel said he is awaiting a ruling out of U.S. District Court in Concord, New Hampshire.