Local
MBTA says cost of overnight bus service higher than previously thought
T leaders are thinking about an all-night, every-night bus service proposed by a group of advocates.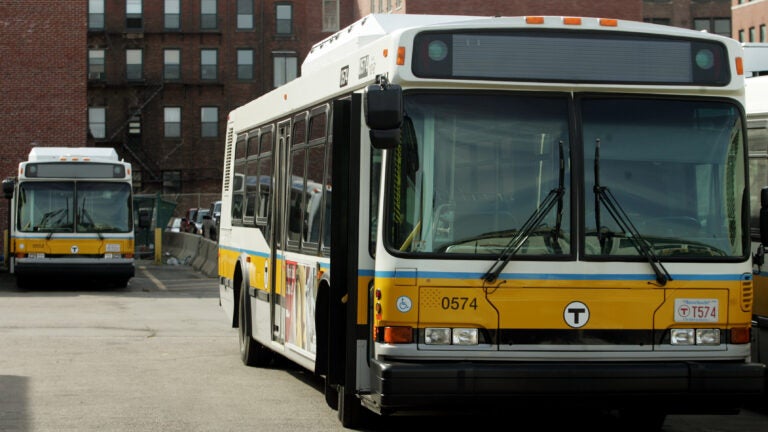 A seven-day-a-week overnight bus service championed by a trio of transit advocates still has the interest of the MBTA's governing board. But the proposal is going to require some work after a T official said Monday costs would be higher than the advocates projected.
The advocates — Jeremy Mendelson, Ari Ofsevit, and Jim Aloisi — have pushed for an "All-Nighter" service since late March. The idea debuted days after the last ride of the agency's late-night weekend service when they published it on CommonWealth magazine's website. In April, the T's board asked agency staff to dig in to it, suggesting interest in exploring the proposal.
The service would run hourly buses along eight routes, with each of the routes meeting at Copley Square, allowing for transfers. It would provide an overnight transit option for late-night workers on an every-night basis at a lower cost than the twice-weekly late-night service, and would provide access to most of Boston and its key suburbs. It would be geared more toward low-income and odd-hour workers, rather than bar revelers and college students, the advocates wrote in CommonWealth.
As for the price tag? Mendelson, Ofsevit, and Aloisi wrote that the all-night, every-night service could be run for about $1 million per year, compared to the $14 million the late-night weekend service cost the T. But Charles Planck, an assistant general manager at the T, said Monday that the costs would be three to four times that.
Costs would be higher than the advocates projected because the T would need to offer services for disabled riders during the operating hours, staff transit police at Copley Square, and pay a premium in wages for overnight workers as part of T workers' contracts.
Additionally, while the advocates said each route could be run with one bus, hourly departures would likely require two buses per route, Planck said. That would mean more staff and more maintenance costs.
Monica Tibbits-Nutt, a member of the T's Fiscal and Management Control Board, said that with the higher costs, the service should not be implemented unless it is part of a broader, system-wide analysis of the MBTA's service policy.
"If we feel fairly confident about these numbers, that's a lot of money. … We could do an entire service plan for that," she said. "That number — that requires a long, long look at this, and I think for that amount of money it would have to be part of a larger service plan."
The board had heard earlier in the afternoon that such a review — which could lead to revisions to bus routes and more — would cost between $2 million and $5 million. That's the same range the All-Nighter service could fall within, based on the MBTA's estimates.
Brian Lang, another board member, said Planck should keep working on the idea with the advocates.
"I don't disagree with what you're saying," Lang told Tibbits-Nutt. But he called for "continuing the discussion on how to bring down that number but still provide a service."
The T has met twice so far with the advocates to discuss the idea, Planck said.
Mendelson, the founder of the nonprofit Transit Matters, said further discussion could result in finding lower costs.
"Our goal was to fashion a plan that responded to the competing needs of offering a meaningful service in an affordable way," Mendelson said during a public comment period at the meeting, acknowledging the heightened price. "We believe that if you give us the opportunity to continue to work with T staff over the next several weeks, we can collaboratively arrive at accurate cost figures that are reasonable for the type of service we are anticipating. We hope you give us that opportunity because we believe that a solution that fits everyone's needs is in sight."
And Aloisi, a former state transportation secretary, said in an interview that adjustments could bring projected costs to the "2-point-something-million dollar range."
"I don't want the perfect to get in the way of the possible," he said.
Planck suggested the T could charge a higher-than-normal fare. He also said costs could be lowered if the T ran the service along shorter bus routes, because then only one bus would be needed on each route. A flyer circulated by Transit Matters said that running the service once every hour and 15 minutes, rather than hourly, would have a similar effect.
The board first directed staff to look in to the All-Nighter idea as it considered ways to mitigate the effect of ending late-night service on minority and low-income riders. A $500,000 proposal to add some weekend and early-morning buses that would serve those populations has been tabled since.