Local News
Boston City Hall moves transgender flag a day after raising it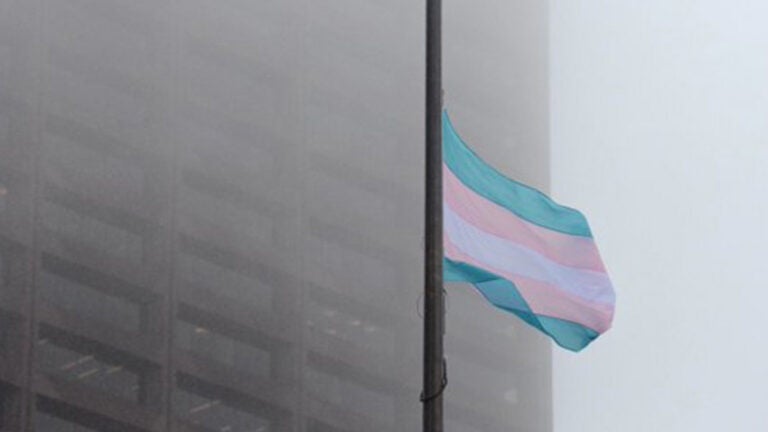 Less than 24 hours after Boston City Hall raised a flag in solidarity with the transgender community for the first time, a Polish flag was seen flying in its place.
At a flag raising ceremony Monday, Boston Mayor Marty Walsh said that he was proud to fly the flag for the first time in state history, and that the city would continue to do so until all people were deemed equal under Massachusetts law. Then, on Tuesday morning, Universal Hub's Adam Gaffin tweeted a photo of the swap, noting the quick turnaround.
Well, that didn't last long: Trans flag taken down and replaced with Polish flag at City Hall pic.twitter.com/2bDI5aHwHd

— Adam Gaffin (@universalhub) May 3, 2016
Bonnie McGilpin, a spokeswoman for Walsh's office, told Boston.com that the city raised the Polish flag Tuesday in recognition of Polish Constitution Day, but that didn't mean they were saying goodbye to the transgender flag.
"The transgender flag has been moved to the flagpoles facing the Congress Street entrance to City Hall, a more prominent location across from Faneuil Hall," McGilpin said in an email statement. "The flag is currently flying directly below the City's flag to show that the City of Boston stands in unity with transgender individuals."
When asked why the city didn't initially place the transgender flag in the "prominent" location, McGilpin said that its original placement, over City Hall Plaza, was better to accommodate the crowd who gathered in support of the flag raising.
On Tuesday afternoon, Walsh again tweeted out his support for transgender rights.
https://twitter.com/marty_walsh/status/727550875057688578