Local
Development team seeks state's help to renovate Providence's iconic Superman building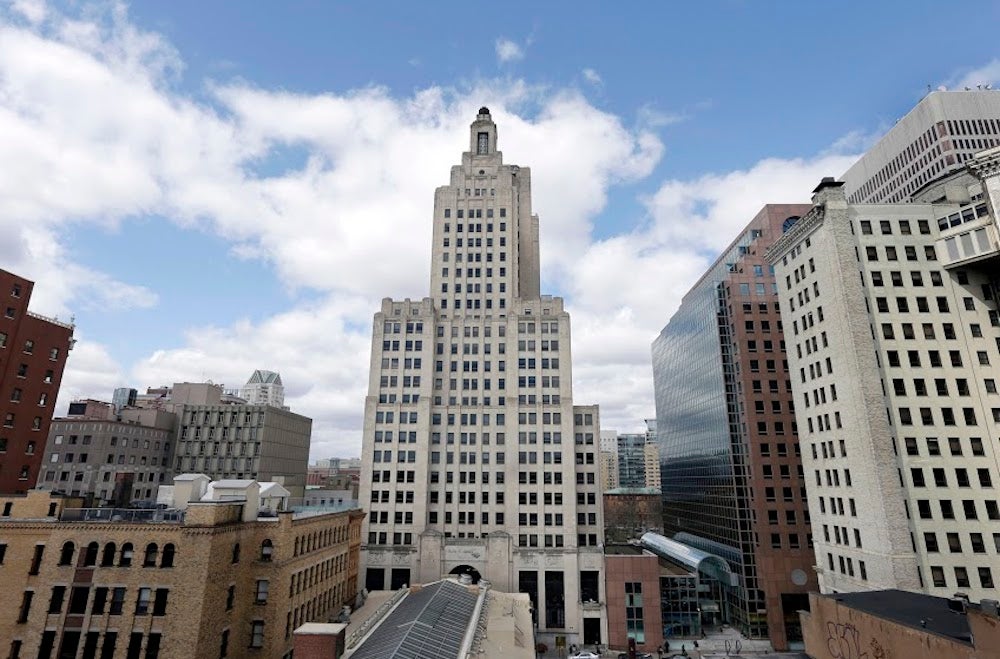 PROVIDENCE, R.I. (AP) — Visible to passing motorists zipping through the state on Interstate 95, Rhode Island's tallest building has gone from icon to embarrassing reminder of tough economic times.
But after three years of vacancy, a development team is now pitching for the state's help to renovate the Providence skyscraper known locally as the Superman building.
Community leaders and lawmakers gathered inside the Art Deco tower's cavernous banking hall on Thursday to launch a public campaign appealing to Rhode Islanders' emotional attachment to the building.
The harder sell will be getting a scandal-wary Rhode Island General Assembly to insert a bailout for its renovation just weeks before finalizing the state budget and adjourning for the year.
Senate Majority Leader Dominick Ruggerio, a North Providence Democrat, said talks have begun to raise a $15 million cap on real estate tax credits to help finance the restoration.
"It's something we have to consider for a building of this magnitude," he said in an interview.
Nicknamed for its resemblance to the comic book newspaper headquarters where Superman's alter ego worked, the former Industrial Trust Tower was built in the 1920s.
Massachusetts-based High Rock Development bought it in 2008. The last tenant, Bank of America, moved out in April 2013.
Taking a wrecking ball to the structure would be "the metaphorical equivalent of Kryptonite" in damaging the capital city's downtown revitalization efforts, said Laurie White, president of the Greater Providence Chamber of Commerce. Fixing it up and transforming it into a hip residential tower for graduate students, young professionals and empty nesters could do wonders for downtown commerce, according to White and other supporters.
But approving a large public subsidy to renovate the building will be a political challenge in a state where such deals have gone badly before.
Ruggerio acknowledged that fellow lawmakers will be wary of a repeat of the state's $75 million deal with 38 Studios, the failed video game company started by former Red Sox pitcher Curt Schilling.
"But this is an entirely different project," he said. It's tangible, he said, and the credits won't be awarded until after the project is completed.
High Rock last proposed converting the building into apartments in 2013 with $39 million in state support, but the proposal died.
David Sweetser, High Rock's founder and principal owner, hasn't specified how much he is asking for this time but hopes to work out the details in the next few weeks. Developers are eyeing a real estate tax credit that was part of a suite of new incentives pushed by Democratic Gov. Gina Raimondo last year.
Raimondo is out of town and her commerce secretary, Stefan Pryor, skipped Thursday's event, but a spokeswoman said he is involved in talks about the building's future.
Sweetser said he lost precious time over the past year trying to persuade another bank, Providence-based Citizens Financial Group, to become the anchor tenant.
Citizens instead announced in March that it's planning to open a new suburban campus several miles away in Johnston.
With little market for so much downtown office space, Sweetser said housing is the best use of the tower and would feed a growing demand. But renovating such an old and deteriorating building wouldn't be possible without public assistance, he said.