Local
Somerville mayor: $50M for Green Line extension 'necessary,' 'frustrating'
The project's future could be decided Monday.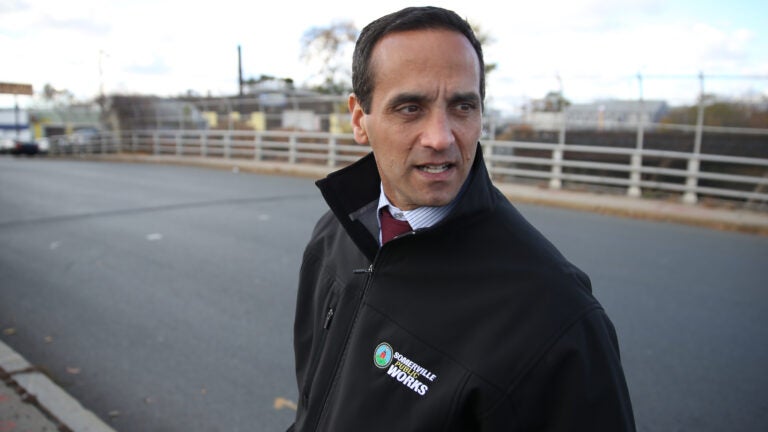 Somerville officials don't want to put $50 million toward the Green Line extension. But at this point, they don't see much of a choice, Somerville Mayor Joe Curtatone said Friday.
"The Green Line project, the extension, is just so important," Curtatone said during a press conference Friday. "We're making an offer to seek an investment from the municipalities. That has been made very clear to us is necessary to move the project forward."
Curtatone announced Thursday that his administration was willing to put up the substantial municipal financing to help bridge the project's budget gap, pending approval from his city's board of aldermen. Cambridge City Manager Richard Rossi said his city would kick in $25 million, also pending city council approval.
The cities made the respective announcements just days before a crucial project update, which could include a decision on its future. The fate of the long-awaited 4.7-mile rail expansion has been in question since last August, when officials revealed its $2 billion budget — split between state and federal funds — had run to as high as $3 billion.
Late last year, as the state's Department of Transportation sought to reverse the budget's ballooning trend, its board passed a resolution saying the state was unwilling to spend any more than the $1 billion it had already pledged for the extension. That meant any additional funding needed after the project was redesigned would have to come from developers along the line, the cities that will host it, or the federal government.
Curtatone said he understands that the Green Line extension's new budget — which will be unveiled Monday — has come down significantly due to changes that include trimmed-back station designs, but that it will still be over the prior $2 billion figure. He said he had been talking to state officials about the project for months, that the need for city funding had been clear for several weeks, and that a decision about how much funding would be needed from the city came in the "last few days."
The seventh-term mayor did not say exactly how Somerville will cover its $50 million tab for the project. He said the city is considering a "variety of funding means" that would be presented to the board of aldermen in the coming weeks. Somerville has been working closely with state officials to understand potential bonding mechanisms to generate the money, he said.
Noting other major infrastructure projects coming down the pike, including a new high school, Curtatone said the city will need to budget conservatively.
Cambridge's contribution to the project is being supplemented by money from the developers of North Point, the area around Lechmere Station, which would be rebuilt as part of the project. Somerville's contribution currently does not include any money from developers. Curtatone said that could change.
"It is our intention, as developers actually retain entitlements…to engage in negotiations and conversations to seek contributions to infrastructure," he said.
Curtatone mentioned US2, the development team working on Union Square, which would receive one of the new stations, as a possible contributor. US2 did not immediately respond to requests for comment Friday.
Curtatone described the municipal contribution as "unprecedented," and said he expects constituents to question why the city should help pay for the project — which the state is obligated to build as part of a Big Dig legal settlement. He called the circumstance "frustrating."
"We don't like doing this. We understand that it's necessary," he said.
Pressed on why it was necessary if the project is legally required, Curtatone sounded a note of collaboration. With the project "so close" and "in the ground," he said, "the prudent approach is to move forward collectively and cooperatively to the next phase."
"We've been waiting for the Green Line for generations," he said.
Somerville aldermen were less diplomatic.
Ward 5 Alderman Mark Niedergang said "the state screwed up" — not the city — on the project's budget, and called the funding requirement "totally unfair."
Still, he and five other aldermen reached for comment on Friday said they were open to approving the contribution, depending on the funding details.
"The state's put a gun to our heads and what can you do?" Niedergang said. "This project is incredibly important to this city and the people who live here."
That sentiment was echoed by other aldermen.
"It's very frustrating, and not what we were expecting to have to do," said Jack Connolly, an at-large alderman. "We have to look at it as an unexpected investment. … Life is what happens to you when you're planning something else."
"It's basically a fine that we're having to pay," added Alderman Mark McLaughlin, who represents East Somerville.