Local News
Boston is pouring millions into improving cyclist and pedestrian safety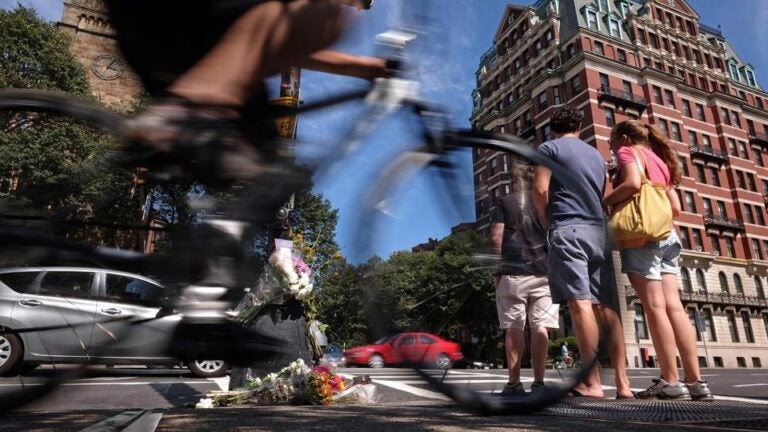 Last summer, a tractor-trailer making a right turn from Massachusetts Avenue onto Beacon Street struck and killed Anita Kurmann while she was riding her bike during the morning commute. The 38-year-old Beth Israel Deaconess Medical Center surgeon died shortly after the flat-bed truck, which was located later that night, drove away from the scene.
The notorious corridor is one of many of the city's main throughways. Vehicles trying to connect to the Mass Pike see heavy traffic, and pedestrians crowd sidewalks and crosswalks, often hurrying across the street between signals. MBTA buses merge in and out of traffic as they make their stops, and cyclists are relegated to a narrow lane between a string of parked cars and the busy street that isn't always well-defined, weaving into the main traffic or bus lanes when space is scarce.
In just three years from 2009 to 2012, 14 crashes involving cyclists were reported at the same intersection—the highest of any during that time period, according to police data mapped by the Boston Area Research Initiative. Across the city, hundreds of other cyclists and pedestrians have been injured in crashes.
That's a big reason why the City of Boston gave Vision Zero, a program meant to improve safety for pedestrians and cyclists, a boost in the 2017 budget, pledging to use millions of dollars to reshape dangerous intersections and streets to combat fatal collisions.
"The objective is to … make [streets] safer, and we do that by design," Vineet Gupta, the director of policy and planning for the city's transportation department, told Boston.com.
This year, the city will prioritize four areas in need of improvements: Massachusetts Avenue, the Talbot-Norfolk Triangle in Dorchester near Codman Square, the area near the Orange Line's Stony Brooke Station in Jamaica Plain, and Harvard Avenue. The transportation department selected these areas after analyzing three years of crash and speeding data, Gupta said.
City Council recently approved a budget that will allocate $9.3 million over the next three years to improve the infrastructure of "hot spots" like those—areas where frequent collisions or speeding citations have happened, as well as those flagged by the neighborhood as potentially dangerous.
"Every year, we will look at identifying hot spots that would lead us to make improvements at those locations," Gupta said. "And every year, we will look to community groups to see if we can come in and make improvements in their neighborhood. We want to make sure it's sustainable."
In 2015, when Vision Zero launched, it received just $500,000, but the new annual commitment is more than six times that amount at $3.1 million. The funds will facilitate the construction of more crosswalks, wider sidewalks, speed bumps, and also redesign the patterns of traffic signals, Gupta said. In many areas, the space is already available, but will be adjusted for all modes of travel without unduly taking parking from drivers.
"Any of these tools could be used to make things safer, but in many cases we would put in a new bicycle lane," Gupta said. "We are working hand-in-hand with local residents," determining what best fits the needs of those in the neighborhoods.
Already, the transportation department has started working on Mass. Ave. So far, the department has repainted the intersection at Beacon Street and similar improvements, including the installation of bollards (vertical posts that provide a clear separation of lanes) and changes in signals, are expected along every intersection of the street, Gupta said.
Cyclist advocates have praised the city's new initiatives and funding commitment.
"The good thing about the budget is that it includes funding to execute all four of the projects," said Becca Wolfson, the executive director of the Boston Cyclist Union. "It's good to see a commitment from the city in allocating funding for these projects. We want to make sure there continues to be funding in the future."
Wolfson also said it's important for the city to allocate funding not only to construction projects, but also to support rapid responses to crashes, a second arm of Vision Zero. When a pedestrian or cyclist is injured, officials flock to the scene, analyzing what caused the crash and determining ways to adjust the street or intersection in hopes of preventing future crashes.
"We're all responsible to be safer on the streets," Wolfson said. "You have to look at what people are doing, sometimes it's really hard to force behavior change."
Wolfson said that adding more crosswalks, or giving pedestrians a priority with a designated signal interval, better accommodates the instincts of pedestrians. It makes the roads safer for cyclists and drivers, too, and helps everyone save time, she said.
"It's true that 30 seconds, 10 seconds are not worth the value of a life. I think we're all guilty of that," she said. "It's great that the city is finally acknowledging and taking action in that."