Local News
A state trooper shared a roadside meal with a woman in need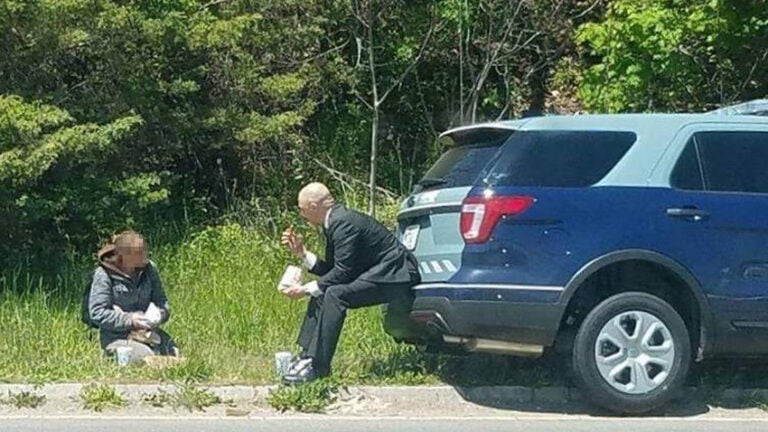 A Massachusetts state trooper took an unexpected action after driving past a panhandler in Fall River.
Trooper Luke Bonin had just left court when he drove by the woman holding a sign, asking for help, on Davol Street, state police said Tuesday. Bonin continued to drive past in his cruiser, but returned after buying two meals nearby.
Police said the woman thought Bonin was there to tell her she had to move from the roadside, telling the officer she would leave.
"I'm not here to kick you out," Bonin said, according to police.
Instead the trooper told the woman to take her pick from the two meals. He then sat on the bumper of his cruiser, still dressed in his court suit, and ate the other meal alongside her.
A passerby snapped a photo of the moment, posting it to Facebook where it came to the attention of Bonin's colleagues.
"Yes, Trooper Bonin, we know you do not want or expect publicity," state police said on their Facebook page. "We know you didn't want to be noticed, but you were, and the job is proud of you. We commend you for your selfless act, and for 'doing the right thing' for someone less fortunate than most people."
https://www.facebook.com/MassStatePolice/photos/a.227475680669756.55919.218158751601449/1022391021178214/?type=3&theater