Local
Why do so few Mass. police departments have cameras in their cruisers?
Police departments are weighing adding body cameras, but many never adopted the technological precursor—dash cams.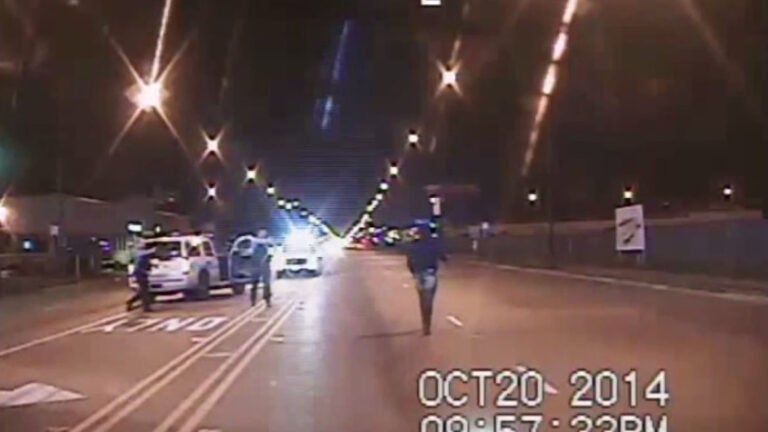 As he advocated for body-worn cameras on every police officer in Boston, City Councilor Tito Jackson urged city and law enforcement leaders to innovate.
"It's absolutely critical we have 21st century community policing," he said at a recent hearing.
But when it comes to video technology, Boston — and most Massachusetts police departments — are still catching up to the 20th century. While police agencies across the country added dash cameras to their cruisers in the 1990s and early 2000s, most Massachusetts departments have remained camera free.
As recently as last week, after a news helicopter caught footage of a police chase that started in Massachusetts and ended with the suspect beaten by police in New Hampshire, some have questioned whether more officers should have cruiser or body cameras. No Massachusetts State Police cruisers have dash cameras, and just a few New Hampshire state troopers have cameras in their cruisers.
Police officials and experts say there are a number of reasons cruiser cameras never caught on here: resistant unions, a lack of funding, an emphasis on training rather than technology, and a perceived lack of need.
"It's just a little bit of a different policing environment," said Wellesley Police Chief Terrence Cunningham, who is also the president of the International Association of Chiefs of Police. "If there wasn't really a problem, there was really no reason to invest in that type of technology."
But he sees that changing.
"At some point, there will be the expectation — even in the northeast — that the camera is there and we provide the footage," said Cunningham, whose 50-officer department will add cameras to cruisers in July. "Whether in a court case, or complaint against an officer. And if we don't, it'll look like we're trying to hide something."
"At some point, there will be the expectation — even in the northeast — that the camera is there and we provide the footage."
In a 2007 survey, 61 percent of police departments nationwide had cameras in their cruisers, according to the Bureau of Justice Statistics. Among those that still don't are Massachusetts' biggest departments, including Boston, Springfield, Worcester and the State Police. Boston is launching a body camera pilot project this summer with 100 officers, but has no plans to add cruiser cameras.
Across the country, cruiser cameras have caught dramatic, and sometimes criminal, behavior. Cruiser camera footage in Chicago refuted an officer's statements about how Laquan McDonald acted before he was fatally shot, leading to the officer being charged with first-degree murder. Before a citizen used his cellphone to film Walter Scott running away as a South Carolina police officer shot him in the back, the officer's cruiser camera caught how the traffic stop started.
A full year before Michael Brown was gunned down in Ferguson, Missouri, sparking the discussion about cameras, Wayland police added cameras to their six cruisers. Chief Robert Irving said they've been used for training, to exonerate officers and catch criminals.
Last June, a cruiser camera caught footage of a home invasion suspect walking down the street, leading to the suspect's arrest after the footage was publicized.
"That was a good example of the evidence we could obtain from a dash camera," Irving said.
The dash cameras of today are much less unwieldy than they were in the 1990s. Boston had the technology long ago — so long, they used actual tapes rather than digital files. Now, systems like Wayland's are totally digitized. The footage uploads as soon as the cruiser pulls into the station.
Cruiser cameras are slightly less complicated than body cameras. Mounted to the cruiser and mostly used to capture traffic stops, they don't require departments to make decisions about whether to turn a camera on inside a home, or during a chat with a citizen on the street.
But many of the other issues are the same: how to deal with issues of storage, how long to keep footage, when to release it and the cost.
Chief Irving said many of his officers in Wayland were hesitant to have cameras tracking their cruisers' movements back in 2013.
"Today, now three years after we put them in, I think you could talk to most of our officers and they'd be very thankful they have them," he said.
Some local departments, like Methuen, have skipped dash cams and jumped directly to body cameras. All 47 uniformed officers started wearing cameras as of Sunday, Chief Joseph Solomon said.
"It's no different than a nightstick, or pepper spray or their weapon," Solomon said. "It's one more tool and it has to be used responsibly."