Local
How body-worn cameras work for one Massachusetts police department
Methuen police officers are among the first in Massachusetts to try out body-worn cameras.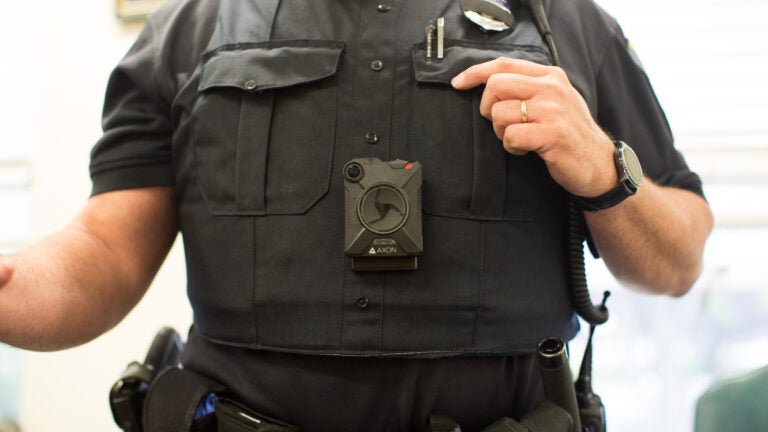 As Methuen police officer Dan O'Connell walks up to the SUV he stopped for speeding, the cellphone-sized black box on his chest beams a live feed to the iPod in his pocket.
The picture is so clear, the Dunkin' Donuts label on the cup next to the woman's seat in her Cadillac Escalade is clearly visible. Even on the small 1-inch-by-2-inch screen, her license is nearly readable.
When he tells her she's being recorded, she smiles and says, "Oh, sure, that's OK."
O'Connell, a 10-year veteran who worked in software before becoming a cop, has only worn the cameras for a handful of shifts. But it's already part of his routine — just like remembering to turn the wheels of his cruiser toward the road case it gets hit from behind during a traffic stop. He knows to press the big black button on his camera as soon as he puts his lights and siren on.
He said he doesn't have an issue with the cameras recording his actions.
"I honestly believe it's the chief's way of saying, we're trying to protect you," he said.
Methuen is among the first police departments in Massachusetts to have body cameras for all uniformed officers.  As bigger cities — including Boston — decide how and if they'll use body cameras, cities like Methuen are providing a roadmap.
"We're always looking for new tools that can help record a situation and document police involvement," Methuen Police Chief Joe Solomon said. "If we can do anything to lessen a negative interaction, it'll be phenomenal."
The city of 47,000 people launched a pilot program a year ago with eight officers, and on May 22, all 47 uniformed officers started using their camera full time. It will cost the city $270,000 over five years.
Watch a redacted video captured by a Methuen body camera:
Few Massachusetts towns have body cameras. The tiny Franklin County town of Gill has tried them, as has the Essex County Sheriff's office. The Massachusetts Chiefs of Police Association supports body-worn cameras, seeing them as a benefit to officers.
"Cameras are a good thing for them and help to prove many times that they did the right thing," executive director Wayne Sampson said.
Methuen's cameras were purchased from Taser and are linked to the officers' stun guns, which are made by the same company. When an officer readies the Taser for use, the camera will turn on. Eventually, the camera will also link to a dashboard camera in the cruiser and turn on when the officer flips on the lights and siren.
The cameras are always running, though not recording. So an officer can take off the camera and hold it around the corner, seeing the camera's view on the iPod screen. During a search, the officer could put the magnetic camera on a pole, and look under cars or into tight spaces without having to put themselves in a vulnerable position.
When an officer is called to an incident or initiates a traffic stop, he activates the camera. Every two minutes, the camera beeps to remind the officer and the person stopped that it's still recording.
Officers can tag their videos — motor vehicle stop, domestic, arrest, etc. — and link them to the incident report number. In the future, the video can be electronically sent with the rest of the investigative materials right to the district attorney's office.
"In 2016, if you're not looking at digital documentation, you're behind the times," Solomon said.
The department has an eight-page policy spelling out how, when and why the cameras are used. Solomon considers the policy a living document.
"It's a work in progress, truly," Solomon said. "So we'll do the best we can do and as we move forward we'll change policies or amend them."
As for O'Connell, he said the camera, clearly visible on his chest, has had a truth-telling effect on people. He recounted a traffic stop earlier that day when a driver admitted right away that his license hadn't been updated in awhile.
"I think it's going to make our job a lot easier with traffic appeals," he said.
Beyond traffic stops, the chief hopes more serious cases will be resolved quicker, too. With camera footage, drawn out motion hearings that require officers to testify could be eliminated, he thinks. A spokeswoman with the Essex County district attorney's office said footage hasn't yet been used in a criminal case.
"I believe it will alleviate the burdens and backlog on the court," Solomon said. "It's much quicker to watch a three-minute video than have a three-hour motion hearing."
The woman in the Cadillac won't have to worry about how video is used in court. O'Connell gave her a warning — no points on her license this time.
"Which is huge right now, which you probably saw," she said, explaining that she just recently got her license back.
The camera footage caught O'Connell giving the woman the warning — and directions back to the highway.