Local
Parents of Owen Labrie's victim file suit against St. Paul's School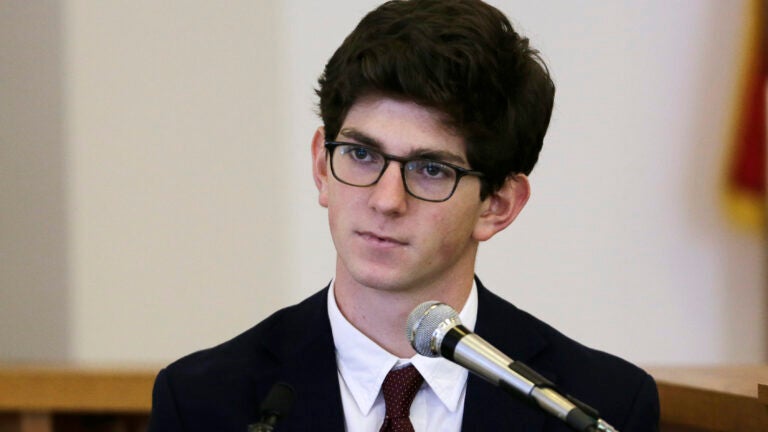 The parents of Owen Labrie's victim have filed suit against St. Paul's School, alleging that the elite prep school condoned the "Senior Salute," a sexualized competition they call "ritualized statutory rape."
The parents, identified as John and Jane Doe in the suit, said they entrusted the boarding school with their 15-year-old daughter's safety, and the school failed to meet its basic duties. They are seeking in excess of $75,000 in damages.
The complaint goes into detail about the Senior Salute. Freshmen girls were referred to as "fresh meat," it says, and on their way to the dining hall, girls were catcalled and ogled by senior boys who sat on couches reserved for upperclassmen. Years before the assault, in 2012, the complaint says, an online "scoreboard" with sexual conquests was made and then taken down by the school, with no repercussions for the student that created it.
Much of the allegations laid out in the complaint were presented at trial, including the list of girls Labrie and his friends wanted to "score" with, the messages exchanged by Labrie and his friends after the assault, and the keys to the isolated room in the Lindsay building passed down from student to student.
Among the allegations, the parents say Rector Michael G. Hirschfeld and other top school officials were told by staff members days before the May 2014 assault that senior men were "seeking out" underage girls, but did nothing about it.
"Because of this deliberate indifference and SPS' failure to take any meaningful steps to do anything about the Senior Salute tradition," the complaint says, "Labrie and his Slaymaker cohorts were able, in furtherance of their competition, to arrange private nighttime meetings with SPS students to, as Labrie described in his essay in [the student newspaper], "scor[e] in dirty Schoolhouse closets."
Labrie, 20, was convicted in August of misdemeanor sexual assault, endangering children and a felony charge of using a computer to lure his victim for sex. He was acquitted of the more serious rape charges, and was sentenced to a year in jail. He is appealing the conviction, saying his trial counsel was ineffective.
Read the complaint:
https://www.scribd.com/doc/314525727/Lawsuit-against-St-Paul-s-School