Local News
These officers are specially trained to tell when a driver is high—even on marijuana
There's no breathalyzer that can tell a cop if a driver is high. But drug recognition officers can.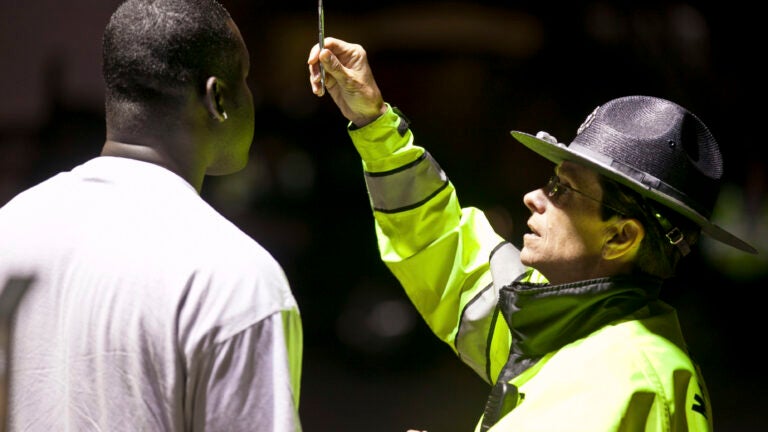 If Massachusetts legalizes recreational marijuana in the fall, weed could be as easy to buy as a six-pack of beer. But there's no breathalyzer that can say when someone's too high to drive.
Enter the drug recognition officers, or DREs, a group of cops and troopers trained to figure out whether drivers are impaired and what drug — or drugs — they're on.
DREs aren't new. But as more states legalize recreational marijuana, these specially-trained officers will fill the gap where technology lacks, said Chuck Hayes, the national DRE program training coordinator and project manager at the International Association of Chiefs of Police.
"Even if you have on-site roadside testing devices … you still have to prove the driver is impaired and that's where the DRE comes in," he said.
DREs are called in post-arrest, when an officer who makes the stop suspects that the driver is impaired, but not sure by what drug. He or she will call the closest available DRE and that starts the 12-step process to figure out what the impairment is and if it's caused by a drug or a medical issue.
Massachusetts' DRE program began 20 years ago, with just two officers. Now there are more than 100 DREs, with more coming after they complete two more trainings this year, said Don Decker, a retired sergeant from Marblehead and the statewide DRE coordinator.
With legalization possibly on the horizon, Decker said they aren't doing anything different, other than adding more DREs.
"You're going to do the same process and same thing," he said.
Last year, nationwide, cannabis was the top drug category that DREs confirmed through their evaluations, Hayes said. Massachusetts DREs, meanwhile, performed about 400 evaluations and most often detected "narcotic analgesics," also known as opiates.
Not all are bullish on the DRE program, like defense attorneys, who think the evaluations are more guesswork than science.
"The whole DRE protocol isn't scientifically reliable," said defense attorney Michael DelSignore, who specializes in OUI cases. "It's never been tested scientifically and the officers aren't qualified to make the assessments they're making. All they're doing is checking the person's pulse, testing their blood pressure. They're not doctors."
DelSignore said he's had fewer than 10 cases involving a DRE evaluation in his decade of private practice. Sometimes, a DRE isn't available after a driver is arrested, or more often, the person refuses the evaluation. Unlike refusing the breathalyzer, which leads to an automatic license suspension, there's no penalty in Massachusetts for refusing a DRE evaluation.
Colorado, which started selling legal marijuana in 2014, has a legal limit for cannabis intoxication: 5 nanograms of THC in a person's blood. Juries are told that at that level, they can "infer" that a person is impaired. But having a DRE testify abut a driver's impairment is crucial, said Carol Gould, Colorado's DRE coordinator.
"The DREs are the best resource for identifying a marijuana-impaired driver," she said.
Even with legal marijuana, the level of cannabis impairment in Colorado has dropped a bit. Last year, about 15 percent of people charged with operating under the influence were high on cannabis, a 1.3 percent drop from 2014.
Tax revenue from marijuana sales has funded more DRE schools in Colorado. Since legalization, there have been five training schools, Gould said, bringing the number of DREs to 262 in 83 agencies.
In addition to training more DREs, Massachusetts and other states are doing a more basic training — called advanced roadside impaired driving enforcement — that gives officers a step up over their typical field sobriety training. In states that could see recreational pot, they're emphasizing the signs of cannabis impairment, Hayes said.
Hayes is based in Oregon, which began sales of recreational marijuana last year. The state is still gathering data, he said, but Hayes said they're starting to see an increase in cannabis-impaired drivers. That means more bloodshot eyes, issues with balance and coordination, dilated pupils, and issues understanding instructions and concentrating.