Local
How will Cambridge and Somerville pay for the Green Line extension, anyway?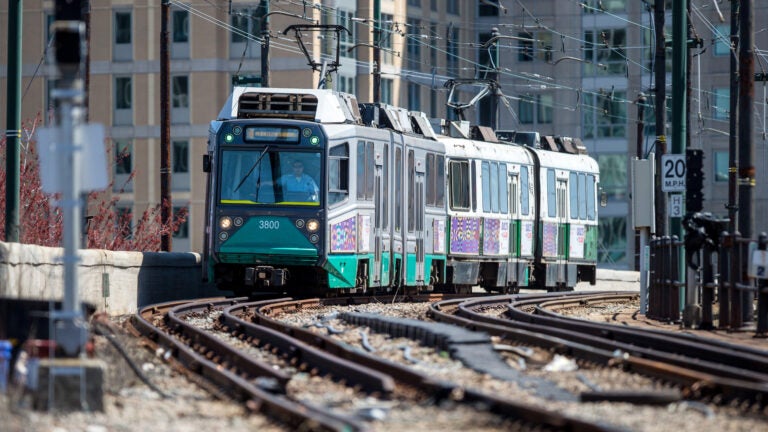 It's been called unprecedented for cities in Massachusetts: Cambridge and Somerville officials intend to pony up a combined $75 million to help fund a state transportation project, the Green Line extension.
The cities' leaders announced their plan last month to help fill a budget gap for the endangered project, which is primarily funded by the state and federal governments.
So, where's the money coming from? That remains to be determined, officials from the two cities say.
But Cambridge City Manager Richard Rossi and Somerville Mayor Joe Curtatone hope to finalize plans and get them approved by the fall (which would require votes from the Cambridge City Council and Somerville Board of Aldermen).
Cambridge will have an easier time paying up for a few reasons.
For one, it's on the hook for less: Rossi has said the city would put up $25 million in funding, compared to $50 million for Somerville. Rossi said that since Cambridge will see the existing Lechmere station relocated and rebuilt through the project, he was unwilling to offer as much as Somerville, which will be home to five new stations if the extension is completed.
"It equates somewhat to what we think maybe the value of the station would be worth. I think that's a fair amount," Rossi said in an interview.
Also, Cambridge has already gotten a commitment from private developers to subsidize the city's contribution. Divco West, the company behind the North Point development near Lechmere, has agreed to contribute, and Rossi said the plan is for the company and the city to split the $25 million down the middle.
That means the city only needs to scrounge up $12.5 million — or a quarter of Somerville's contribution. Somerville officials have not yet secured private money from developers in their city to cut down on its expense.
Rossi said $12.5 million is "always going to be a big number," but that it's affordable for the city.
The city is "leaning toward" paying the contribution out of a well-stocked reserve fund, he said.
"[The reserve] allows us to be prepared for unforeseen circumstances. And this is one of them," he said.
But Cambridge could issue bonds to fund the contribution in full or in part, Rossi said. He also said Cambridge is exploring whether its contribution could be deducted from state aid payments to the city.
Cambridge's final plan will depend on factors set by the state, including the timing of the contribution and whether it is expected all at once or could be paid back over time, Rossi said.
"We will be meeting with the state to understand at what point we will need to have funding commitments in place," he said.
MBTA spokesman Joe Pesaturo said in an email that the state is "continuing to work with the communities to finalize the plans."
"There is no specific deadline, but obviously it's important that we keep working with the communities to solidify the plans sooner rather than later," he said.
In Somerville, Curtatone has described the planned $50 million contribution as "frustrating" but "necessary." State Rep. Denise Provost compared state transportation leaders to "Somali pirates" because of the municipal funding requirement. And while aldermen have said they will likely approve the spending, they have done so begrudgingly.
Curtatone asked the Board of Aldermen at a late-May meeting for their approval by September, according to The Somerville Times. "The mayor said he hopes to spread the $50 million impact over time and avoid cuts to other city initiatives," the paper reported, but a concrete plan will not be available until later this month.
"This is still under review and discussion," city spokeswoman Denise Taylor said in an email this week.
Earlier in May at a press conference, Curtatone mentioned bonding and state aid deductions as possible payment methods.
At that press conference, Curtatone also said he expects US2, the company behind the redevelopment of the Union Square neighborhood, to help cover the city's contribution. However, the city has not yet secured private funding to cushion its own because the development project is not yet fully approved, he said.
"It will be our intention and our approach with that development team and future development teams to engage them in negotiations and conversations to seek contributions to infrastructure — for the Green Line and for other necessary infrastructure," Curtatone said.
The mayor and other Somerville officials have also expressed interest in finding more creative funding options.
Curtatone said in last month's press conference that he would explore other tools that could allow the city to use projected new real estate value to fund its contribution, but noted the options are limited in Massachusetts.
And in a joint statement announcing the $75 million plan in May, Curtatone and Rossi called for adjustments to a state infrastructure bonding system around development projects to allow cities and towns to better take advantage of it. Doing so could ultimately "offset Cambridge's and Somerville's proposed municipal contribution, if they choose that option," Curtatone and Rossi wrote.
Last month, Somerville Board of Aldermen President Bill White suggested  instituting a new local tax on real estate sales to help pay for the project. The idea has been discussed at length in Somerville recently as a way to fund affordable housing.
But White said this week that the idea is probably off the table because it would require approval from the state legislature. With decisions from the cities needed as soon as this fall, there probably isn't enough time for that, he said.
Geoffrey Beckwith, the executive director of the Massachusetts Municipal Association, which represents local government interests, said the cities' contributions highlight the need for additional local revenue options if the state is going to require communities to assist in funding transportation projects in the future.
"It's a heavy lift now to come up with significant funds to support mega-projects because of the limits on municipal revenues and municipal finances," he said. "So additional tools in the future will be necessary if there is to be a local component to major projects."