Local
12-year-old Belmont swimmer is heading to the Paralympic trials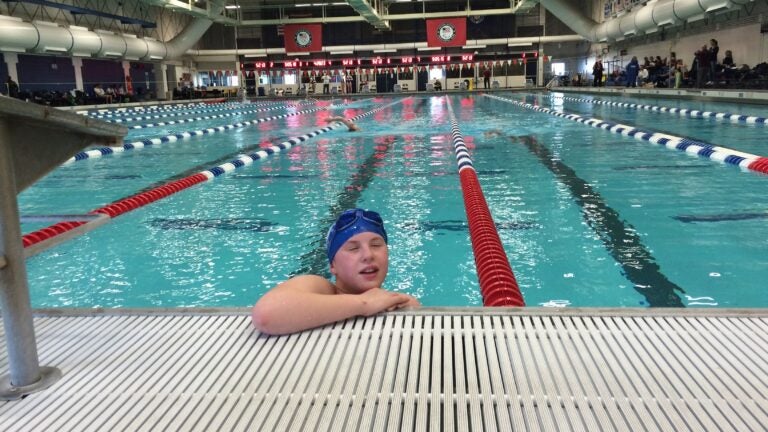 Madeleine Babcock loves to race. And at the end of the month, while many of her peers will be settling into summer vacation, the 12-year-old from Belmont will be competing in Charlotte, North Carolina, for a spot on the U.S. Paralympic Swim Team going to the Rio games.
Madeleine was born with glaucoma, a disease that damages the optic nerve, and aniridia, a disorder that affects the iris. As a result, she is legally blind in her left eye and her right eye only has light perception, as if she were looking through wax paper, according to her mom, Jill Babcock. Still, despite the challenges, Babcock said her daughter has always had "no fear" in the water. She started swimming lessons at 18-months-old and always jumps off the diving board of the family's backyard pool.
"I love the feeling of the race," Madeleine said. "I like how it feels after swim practice."
When she was six, Madeleine joined the Belmont Aquatic Team, and she's been swimming competitively for the past five years.
"It's really exciting that she's 12 and meeting the time cuts for such big meets," Babcock said of her daughter qualifying for the Paralympic trials.
Madeleine swims for about two hours every day. She practices five times a week with the Belmont club and once a week with the swim team at Adaptive Sports New England, a Massachusetts organization dedicated to increasing participation in athletics by youth and adults with visual or mobility impairments.
Madeleine said she's feeling excited and "kind of nervous" about the trials, where she will swim in seven events, including her favorite — the 100 meter backstroke. During the competition, she'll race against other athletes in her sport class for partial vision, but to make the team going to Rio, her times will be ranked against the female swimmers across group classifications.
What Madeleine said she likes about participating in the Paralympics most is that "everything is an even playing field" — each athlete has a disability and everyone is different.
While working hard in the pool, Madeleine has managed to stay an "A" student and keep up with after-school mobility and braille lessons with a teacher from Perkins School for the Blind.
"She has a lot of challenges and a lot of responsibilities to keep up with," Babcock said. "We're super proud of her, everything she's managing to do at twelve-and-a-half. She's just a really outgoing, positive kid, and with so much on her plate, she could easily throw in the towel, which she's never done."
Joe Walsh, president of Adaptive Sports New England, said Madeleine has demonstrated remarkable leadership with her positive and welcoming attitude for both the younger and older athletes she swims with at the program once a week.
He said it's "fantastic" she's going to the trials.
"It's an enormous accomplishment that she made that cut and is at the level at such a young age where she's swimming amongst that elite group already," Walsh said.
Madeleine's entire family, including her 8-year-old triplet sisters, will be in Charlotte to cheer her on. But for Madeleine, this is just the beginning: She is thinking even further ahead to the 2020 Paralympics in Tokyo. Walsh, for his part, thinks that's a real possibility.
"That's a very realistic goal considering everything we know and the odds of her continuing to progress and the progress that she's made already and if she chooses to pursue it," he said.
Madeleine's determination to capture her dreams is apparent in her own advice for other young people with disabilities.
"You can do anything you put your mind to and you don't have any limits," she said."You're your only limit."