Local
MBTA union willing to cut new workers' pay if management limits privatization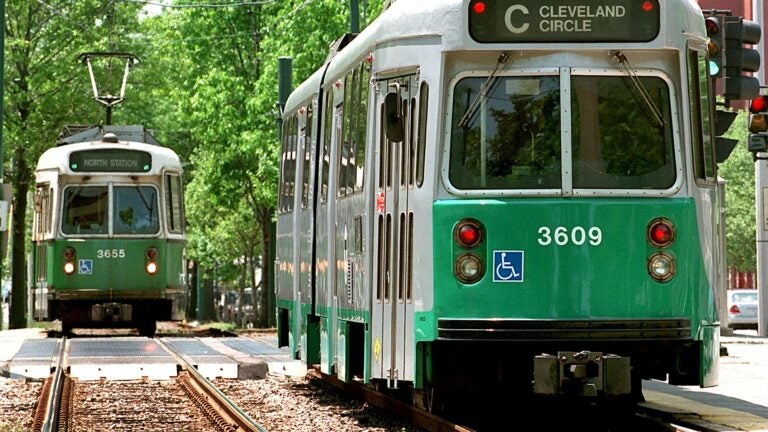 The largest labor union representing MBTA workers wants to make a deal.
The 4,100-employee Boston Carmen's Union says it's willing to cut wages for new employees if it means the T will limit privatizing jobs done by members.
Union officials presented the proposed deal at a Monday meeting of the T's governing board, saying it would save $24 million for the agency over four years. The proposal would extend the Carmen's current contract with the T two years, to 2020.
Under the proposal, new full-time employees would see an 11 percent wage reduction over their first four years, and new part-time employees to see an eight percent reduction over their first six years. Additionally, wages would grow by 1.5 percent per year in 2019 and 2020, a lower rate than the usual 2.5 percent annual increase.
In exchange, the union is asking the agency not to contract out services done by its members. It would allow one exception: the agency's central warehouse, which employs 34 Carmen's Union members and which the T has discussed recently as a potential service to privatize.
"This plan we are presenting today is evidence of the Boston Carmen's Union doing its part to identify cost savings that will help improve the system," Jim O'Brien, the union's president, said in prepared remarks.
The T has had ambitions to privatize some aspects of the agency since last year when, as part of a series of reforms following the 2015 winter transit crisis, Gov. Charlie Baker got the legislature to grant the agency a three-year reprieve from the "Pacheco Law." The law, named for its champion, state Sen. March Pacheco, sets tight standards on the state's ability to contract public services to private companies.
T officials have made it clear that privatizing some services is a major goal in the coming months, and the union has argued against those plans.
MBTA Chief Administrator Brian Shortsleeve, who has led the private contracting discussions, said Monday that the Carmen's willingness to slow wage growth is "a step in the right direction," and that discussions with the union have been productive. But he said officials would like to see concessions that result in more immediate savings to help address a budget gap projected at $80 million in the fiscal year that starts next month.
As an example, he said, changing overtime rules to see OT pay kick in after 40 hours of work per week rather than the current eight hours per day might have a bigger effect short-term.
Shortsleeve also said it was doubtful the agency would be willing to make promises about limiting privatization plans.
"I think it's unlikely that we would concede much of that Pacheco relief," he told reporters.