Local
Attorney for arrested city official sharply rebukes charges as 'crap'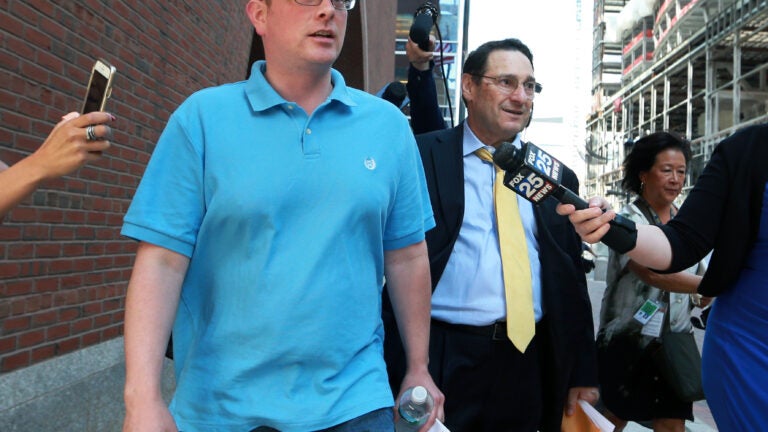 An attorney for the city of Boston official who was arrested on Wednesday called the extortion charges against his client "crap" and issued sharp criticisms of the U.S. Attorney's office.
"Not only does he not think he did anything wrong, I don't think he did anything wrong," defense attorney William Cintolo told reporters. "This is a very, very strange case."
Timothy Sullivan, the chief of staff of intergovernmental affairs in Boston Mayor Marty Walsh's administration, was charged in U.S. District Court on Wednesday with extortion and conspiracy to extort. He was released on an unsecured $25,000 bond, and he has been put on paid administrative leave by the city.
Sullivan is accused of pressuring a local music festival into hiring unnecessary union labor for a September 2014 event, according to an indictment released Wednesday morning.
His arrest comes about a month after Kenneth Brissette, the city's director of tourism, was arrested and accused of extorting the same musical festival. Brissette has pleaded not guilty to the charge.
Outside U.S. District Court, Cintolo suggested a Supreme Court decision on Monday that vacated a corruption conviction against former Virginia Gov. Bob McDonnell is relevant to his client's case.
"When you read the [Supreme Court] opinion, and then when you read the indictment, I suspect that you will be as convinced as I am … this is a crap piece of case," Cintolo said.
In an 8-0 ruling on Monday, the Supreme Court ruled that federal corruption cases must involve an "official act." Setting up a meeting or talking to another official, the court decided, did not reach that legal standard.
Similarly, Cintolo said that the indictment against Sullivan solely accuses him of setting up a meeting between union representatives and the music festival.
"I'm hoping that they read that decision," Cintolo said. "I'm expecting that this court will give the Supreme Court a little bit more respect than the U.S. Attorney's office."
Cintolo also took aim at U.S. Attorney Carmen Ortiz's office and accused them of overreaching.
"I think the U.S. Attorney's office believes they can run the city of Boston, meaning that they'll decide what's good government and what's not good government," he said.
Emails previously released by Walsh's administration identify the local music festival as Boston Calling, which was held on City Hall plaza in September 2014.
Before joining City Hall in February 2014, Sullivan had worked as a legislative and communications director for the Massachusetts AFL-CIO.
Cintolo said the indictment does not accuse Sullivan of accepting any money or gifts, and he added that a person identified as a victim in the case was prepared to testify they did not feel threatened, coerced, or pressured.
"The allegation in this case is that a meeting was set up for people to discuss what should be done, whether or not a union employee should be hired," Cintolo said. "It's as if I were to call a politician and say, 'There is a pig farm next to my home, is there anything you can do about that?' Just like I would ask for that, and I would expect my politician and representative to abide by my request, that's what happened here."