Local News
Friends of Cambridge cyclist killed in crash mourn her loss, dedicate ghost bike at vigil
Amanda Phillips was killed last Thursday in Inman Square.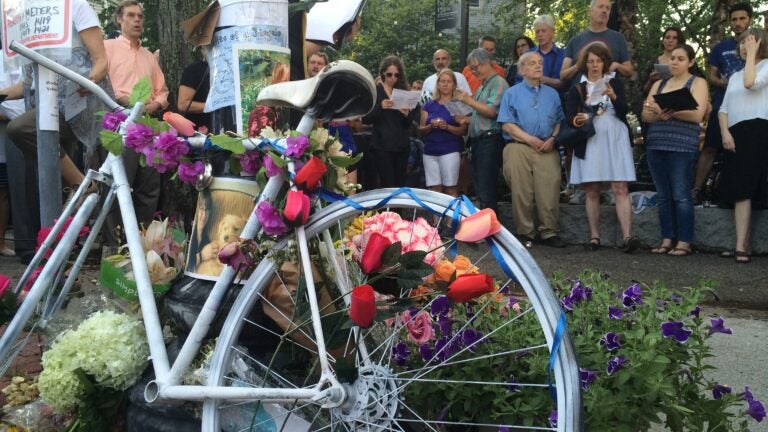 Laura Everrett stood just a few steps in front of a white bike that was locked to a lamppost. She took in the flowers, which were woven in the axels and spun around the handlebars, and read signs that warned passersby to "watch out for bicycles." Her eyes stopped when she got to a picture of Amanda Phillips, a 27-year-old Cambridge cyclist who had been killed in a crash less than a week before. Everrett put her hand over her heart.
"I don't want to do another one of these," she said quietly, turning away from the memorial.
Everrett was there, in front of the Inman Square memorial, to lead the vigil for Phillips. She never knew Phillips, but that didn't matter. Like Everrett, Phillips was a cyclist. That was enough.
Hundreds of cyclists soon pulled up to the memorial, many stopping to kneel in front of the white bicycle. They grabbed candles and put their hands around the flames so the lights wouldn't flicker out. They hugged one another tightly, some with tears streaming down their cheeks.
They gathered to remember Phillips, a nursing student at the MGH Institute of Health Professions and an employee of Diesel Cafe in Somerville. Phillips's college friend described as someone always able to "focus on the good things."
They also gathered to make sure that Phillips didn't die in vain, and to promise that they would advocate for better road safety policies.
"We've stood vigil around a ghost bike too many times," Everrett said, causing someone to ding their bike bell in agreement. "We proclaim with our bodies and our bicycles that Amanda's life will not go unnoticed."
Becca Wolfson, executive director of the Boston Cyclists Union, stepped up to dedicate the ghost bike, a ceremonial tradition that has existed since ghost bikes first popped up in St. Louis in 2003.
"For cyclists, it's a cautionary warning," Wolfson said. "And as an educational tool, it causes people who are walking by to stop and realize that one moment of distraction, one moment of impatience, can take a life."
It was one moment that took Phillips's life last week. She entered Cambridge Street from the sidewalk and then struck the open door of a parked Jeep around 12:20 p.m. last Thursday, according to a preliminary investigation by authorities. The impact caused Phillips to be thrown from her bicycle into the path a landscape truck traveling on the street, authorities said.
The crash took place at the intersection of Cambridge and Hampshire streets. Phillips was transported to Massachusetts General Hospital, where she was pronounced dead.
No charges have been filed as the investigation continues. MassBike, a bicycling education and advocacy group, has called for the drivers involved to face either vehicular manslaughter or negligent homicide charges. Cyclists also turned up at the Cambridge City Council meeting Monday night to advocate for protected bike lanes in the area where the crash occurred. Many of the cyclists who testified also came to the vigil, where they listened in horror as Lumina Gershfield Cordova, who was walking nearby when the crash occurred, recounted the details.
"When Amanda was hit, I heard a scream and then silence," she said as cyclists covered their mouths and turned their heads away.
David Elvin, a primary care physician at Cambridge Family Health, was also walking nearby and rushed to Phillips's side. He encouraged everyone in attendance to treat each other with compassion.
"I know if our situations had been reversed, she would've done the same for me," he said.
Shaun Brideau, one of Phillips's colleagues at Diesel Cafe, told the story of how their coworker, Tim, encouraged Phillips to pursue nursing at the MGH Institute. He read the letter Tim wrote to recommend Phillips for the program, which praised her for her patience, optimistic personality, and attentiveness to every person she met.
"I know she will be adored by her patients," the letter read. "I will be thankful to call her my colleague one day soon."
Everrett then read aloud the names of 14 people who had been killed in biking accidents in the Greater Boston area.
"Amanda Phillips," she said last, letting the silence that followed hang in the air.
Before they left, Everrett encouraged attendees to pray for the teenager in Dorchester who, earlier that afternoon had been struck by a vehicle while on a bike. She prayed with them. She didn't want to do another one of these.