Local
Second official in Mayor Walsh's administration arrested for extortion
Mayor Marty Walsh said he was "deeply concerned" by the allegations.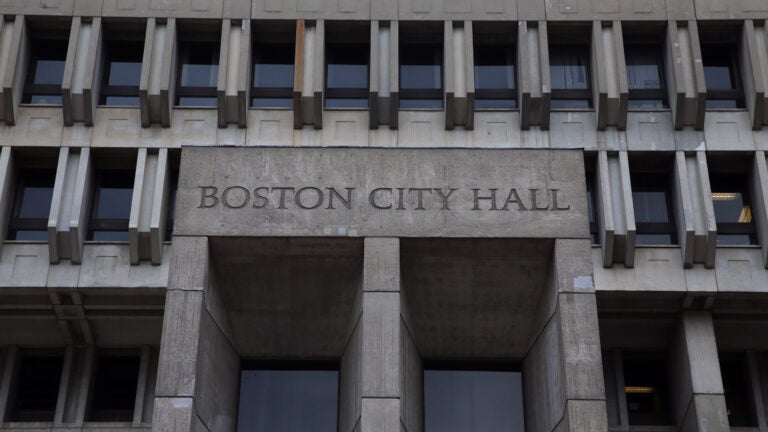 A second official with the city of Boston was arrested on Wednesday morning after a federal grand jury indicted him in relation to the extortion of a local music festival, U.S. Attorney Carmen Ortiz said in a statement.
Timothy Sullivan, 36, who is the city of Boston's chief of staff of intergovernmental affairs, is accused of both extortion and conspiracy to extort a company, prosecutors said.
The indictment comes on the heels of last month's arrest of Kenneth Brissette, the city's director of the Office of Tourism, Sports and Entertainment, who was charged in federal court with extortion of the same company.
Both Sullivan and Brissette are accused of pressuring the music festival into hiring union workers for a September 2014 event. The name of the festival is not explicitly stated in the indictment, but emails released by the city to Boston.com identify it as Boston Calling, a music festival that had been held at City Hall plaza.
According to Wednesday's indictment, Sullivan and Brissette "repeatedly advised" Boston Calling, which was awaiting city permits to hold the event, that it would need to hire members of the Local 11 chapter of The International Alliance of Theatrical Stage Employees. Festival organizers told them they had already hired non-union laborers, according to prosecutors.
In August 2014, a representative for IATSE Local 11 emailed Sullivan a draft contract between the festival and Local 11, and asked Sullivan to forward it to the festival, according to the indictment.
Three days before the September 2014 event, Brissette and Sullivan allegedly requested a meeting with the festival organizers, where they insisted that half of the festival's labor force be union members, according to the indictment. The music festival then hired eight additional laborers and one foreman, and Boston issued the necessary permits shortly thereafter, according to the indictment.
Before joining Mayor Marty Walsh's administration, Sullivan was the legislative and communications director for the Massachusetts AFL-CIO. Brissette had previously worked with the state's Office of Travel and Tourism.
In a statement, Walsh said he was "deeply concerned" about the allegations.
"It is a great privilege to serve in City Hall and I will not allow anyone to squander that privilege," Walsh said. "I expect everyone to perform at the highest ethical standards. There is no room in my Administration for the type of behavior that is alleged here."
Walsh, who before becoming mayor was a labor leader himself while serving as a state representative, said he has known Sullivan for years.
"I've known Tim for a long time. Certainly it goes back many years back to before the State House days. Certainly I'm bothered by this. Tim has a wife and a young baby at home — a 2-year-old I believe now. So I feel bad for what's happening here, but certainly it's something that I don't stand for. If these allegations are true I'm certainly not happy with it," Walsh said Monday morning, according to State House News Service.
The mayor has repeatedly denied any personal wrongdoing in the probe.
The superseding indictment on Wednesday also adds a federal conspiracy to extort charge for Brissette. He had pleaded not guilty to the extortion charge, saying it was "factually and legally flawed."
"I intend to fight these false charges with everything at my disposal," Brissette said. "I look forward to my ultimate vindication in the United States District Court."
The new indictment outlines allegations that were also detailed in Brissette's indictment last month regarding filming for a reality television show.
Brissette made "similar demands" of a non-union production company filming in Boston, according to both indictments. The events in the indictments line up with Brissette's involvement with Top Chef in June 2014, which received widespread attention when five Teamsters were arrested for allegedly threatening non-union workers.
According to Wednesday's indictment, Brissette learned that Top Chef had not hired union labor, and he allegedly advised an aide to hold the necessary permits until the issue was resolved. Brissette then told a producer for the film company to make a deal with the union local about hiring union labor or he would not release the permits, according to the indictment.
Brissette ultimately relented and released the permits after the film company met with local union representatives, according to the indictment. Brissette then allegedly told two locations where the company was scheduled to film about the situation, and those locations decided not to allow filming there, according to the indictment.
The indictment contrasts with a report commissioned by Boston officials. That report said that Brissette asked the film company not to film because he needed to determine whether their requests would require permits. The report described Brissette's calls to filming locations as a courtesy heads up.
Prosecutors alleged that Brissette was told explicitly by officials from city and state that it was not legal to pressure a company to hire union workers, according to the indictment. The Director of the Massachusetts State Film Office allegedly told Brissette, "it was none of our business, being in state government, whether something is union or non-union."
You can read the full indictment below.
https://www.scribd.com/doc/317034362/Indictment-of-Timothy-Sullivan-and-Kenneth-Brissette