Local
Watch Mayor Walsh talk about another indictment in his administration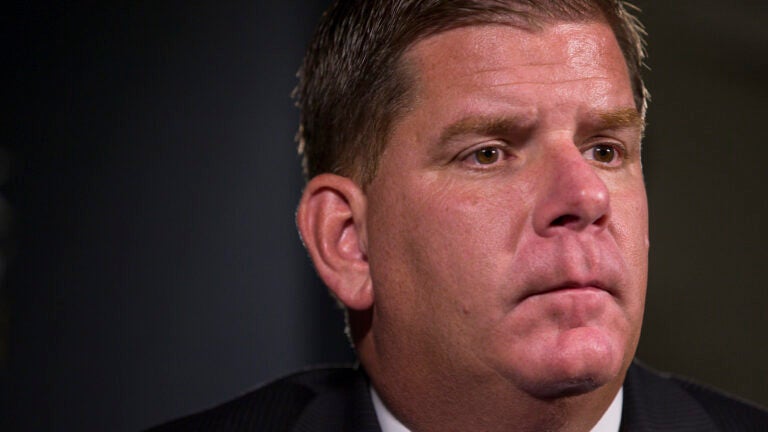 Boston Mayor Marty Walsh found himself on strangely familiar ground on Wednesday morning, surrounded by reporters peppering him with questions about the indictment of a city official. It was the second time in six weeks Walsh had to give an impromptu statement about allegations of criminal wrongdoing in his administration.
Standing at an outdoor event in the North End, Walsh addressed the arrest and indictment of city official Timothy Sullivan on federal extortion charges. Sullivan is accused of pressuring the Boston Calling music festival in 2014 to hire union labor in exchange for needed permits. Ken Brissette, the city's top tourism official, was indicted on similar charges in May and has pleaded not guilty. Walsh has repeatedly denied personal wrongdoing in the incident under investigation.
You can watch Walsh discuss the latest indictment here:
WATCH: Mayor Walsh calls indictments of 2 city officials "deeply concerning" to him https://t.co/fFqUHFlBPIhttps://t.co/bfEfFsYk0V

— The Boston Globe (@BostonGlobe) June 29, 2016
The key takeaways:
"I hope so," Walsh said when asked if he thought this was the end of the indictments for City Hall employees. "I read parts of the indictment today and it didn't seem like there was anything else that was going to come in the indictment."
Prior to taking a high-ranking position in the city's office of intergovernmental relations, Sullivan was a union official — as was Walsh prior to becoming mayor. What kind of impact will the indictment have on Walsh's willingness to hire labor leaders for top City Hall posts? "Absolutely nothing," he said.
Walsh refused to say whether he had appeared before a grand jury in connection with the labor probe that has jolted his administration. "I have no comment on that because there's an investigation as you can clearly see that is happening," he said.
Walsh said he did not foresee Sullivan's indictment, even though Brissette's indictment last month said another unnamed person was involved in the allegations and news reports citing internal emails suggested Sullivan's involvement. Nor did he ask Sullivan whether he was involved. "Absolutely not," he said. "I didn't talk to him about it. … That's the work of the United States Attorney's Office, and that's not my job."
The mayor said he has known Sullivan for many years.
Sullivan, as is Brissette, is on paid administrative leave.