Local
Pro-pot legalization group files campaign finance complaint against police chief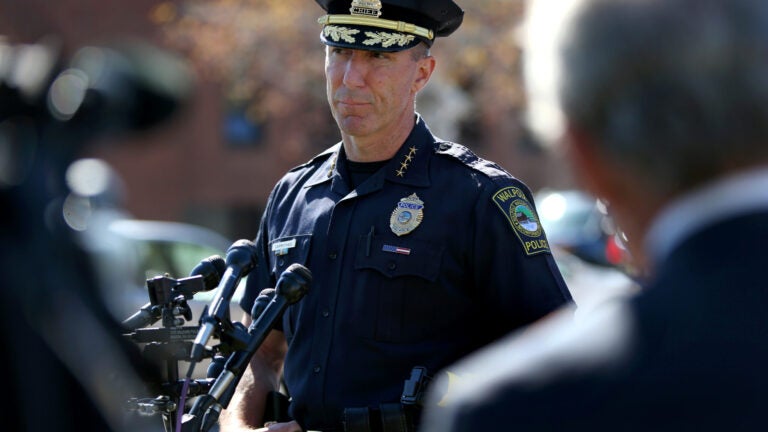 The group pushing for marijuana legalization in Massachusetts says a police chief improperly campaigned for the anti-pot group at a press event last week.
The Campaign to Regulate Marijuana Like Alcohol filed a complaint against Walpole Police Chief John Carmichael with the Office of Campaign and Political Finance on Thursday.
Specifically, the complaint says Carmichael appeared at an event on June 23 for the Campaign for a Safe and Healthy Massachusetts in his police uniform, during work hours, and arrived in a police vehicle. The complaint cites two different "interpretive bulletins" issued by the state Office of Campaign and Political Finance.
In one, it notes that an appointed official may not appear at a political committee's campaign function to promote or oppose a ballot question during working hours. Appointed officials are given less leeway than elected officials. The other focuses on the use of public resources, like office phones, computers or other equipment purchased by the government, for political purposes.
Officials are allowed to voice their opinions on ballot questions, but not using public resources.
"Chief Carmichael is entitled to his opinions, but he is not entitled to express those opinions at campaign events while on taxpayer time and using taxpayer-funded resources," CRMLA campaign manager Will Luzier said in a statement.
Carmichael told Boston.com Thursday that he doesn't have traditional work hours.
"I'm a police chief at 8 in the morning, and police chief at 3 in the morning," he said. "I'm always on duty."
Carmichael said he has many responsibilities as a police chief and also as someone who serves on several boards and councils, including the International Association of Chiefs of Police dangerous drugs council, the governor's opiate task force, and the Department of Public Health's medical marijuana applicant selection committee. Earlier this year, he accompanied the state delegation to Colorado to examine that state's legal cannabis market.
"I'm always acting in an official capacity as someone who's trying to educate the public on public safety," he said. "I have an obligation to do that."
The anti-pot group's event that Carmichael appeared at focused on the "proliferation of pot edibles" under legalization. In the group's writeup of the event, they highlighted Carmichael's appearance. The event showed reporters the candies, sodas, and other items that they say could be sold if marijuana is legalized in Massachusetts.
"That press conference was to educate our public and make them aware of the dangers of the drugs out there," Carmichael said.
The campaign finance office will decide whether a violation occurred and what the penalties should be, if any.
A spokesperson for the Campaign for a Safe and Healthy Massachusetts didn't immediately respond to a request for comment.
Voters will go to the polls in November to decide whether to legalize recreational marijuana in Massachusetts. The law would allow for eventual retail stores with a tax on cannabis sales.