Local News
This 11-year-old is working to expand telemedicine coverage in Massachusetts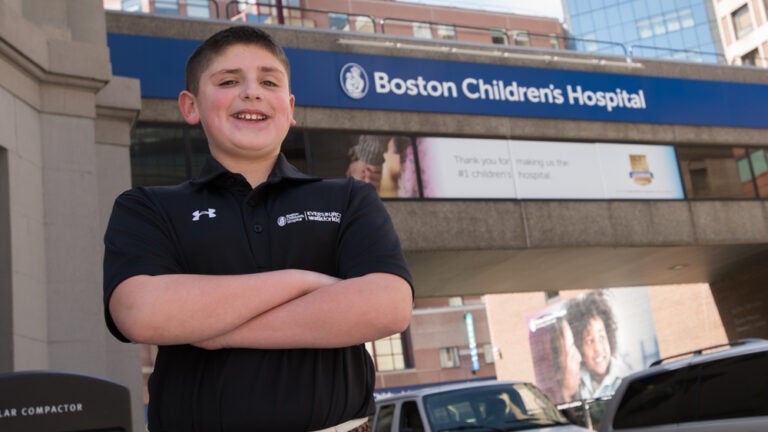 Carson Domey raises thousands of dollars for Boston Children's Hospital each year. He's also sort of a "honorary-lobbyist" for the hospital to promote affiliated bills.
Carson Domey is 11 years old.
In June, he secured more than $16,000 in donations for the Eversource Walk for Kids, a fundraising event that takes place each year on the Esplanade. Now, the middle school student, who has been diagnosed with Crohn's disease, is helping the hospital's Office of Government Relations to promote a telemedicine bill (H. 267) in the state legislature. He even testified on Beacon Hill for the legislation, which would expand insurance coverage for telemedicine.
Telemedicine, using audio of video technology for remote consultation or treatment with a doctor, is important to Carson because it's a service he's used himself, since he lives hours away from Boston Children's in Bellingham.
"For example, if someone doesn't go to a doctor's appointment because it's too long of a drive, they could use telemedicine," Carson said "They could still see that doctor, [and] it will improve the quality of care for the community and the person."
Carson was diagnosed with orofacial granulomatosis, a rare chronic inflammatory disorder that affects the lips and the area around mouth when he was 7 years old. Then, in September 2014, he was diagnosed with Crohn's disease.
Carson said his own experience as a patient helped drive him to become involved with raising awareness about health issues and working to make sure everyone has access to telemedicine.
But his interest in helping Boston Children's and raising awareness stems from his other passion — politics. Carson has been interested in public office and politics since he was 8 years old. In 2044, he wants to be on the presidential ballot.
"I was like, 'This seems interesting,'" he said of how he became interested in politics. "The fact that people can serve their neighbors and their fellow residents and represent them. And how we're in America and have the freedom to do so, where in some countries you can't."
Carson says that he's interested in all aspects of government, but finds foreign affairs particularly interesting.
"And I've found foreign affairs specifically interesting," he added. "How our government relates with other governments in order to make each other better."
He's already interned for his state senator, Ryan Fattman, and eventually, he hopes to work at the state department or work in Congress before he runs for president.
"I want to improve the quality of [life for] citizens, make sure they're happy, safe and getting a nice lifestyle, as well as other people in the global community," Carson said. "Making sure human rights are being carried out correctly and making sure all people are safe and hopefully make peace, instead of war more often."
When he's not doing his homework or playing hockey, Carson said he's watching the news, "keeping up on what's going on in the world and in our nation and stuff like that."
His mom, Michelle Domey, said she has no doubt her son's name will be on the ballot in 2044.
"I think he's got a good start so far," she said. "He's very self-driven and he just wants to make the world a better place. He's very fair and just and has a lot of backing for everything he believes in. He studies it and doesn't follow one person."
Carson's Twitter handle, @POTUSIT, describes his planned path, or perhaps, his destiny, as a president in training.