Local
Some Boston police officers will soon wear body cameras as part of a pilot program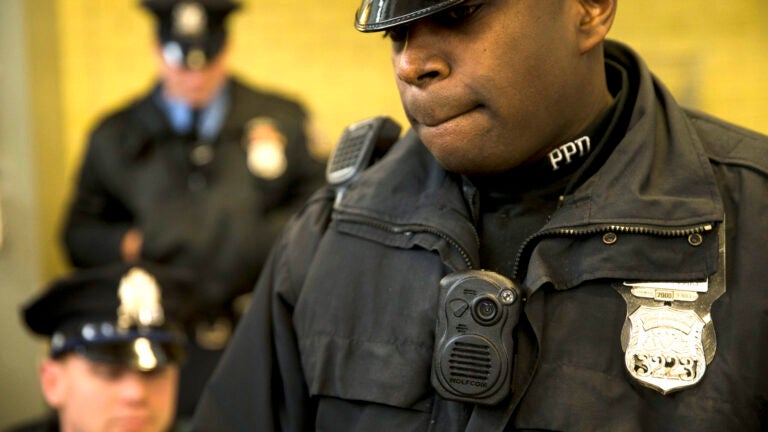 Up to 100 Boston police officers will soon wear body cameras as part of an agreement between the Boston Police Patrolman's Association and the City of Boston, Mayor Marty Walsh's office announced Tuesday.
"In Boston, we are fortunate to have strong relationships with our communities and I'm confident that body cameras will serve as another tool for the Boston Police Department to continue their work in the neighborhoods," Walsh said in a statement. "I look forward to working with the Boston Police Department as they learn best practices through this pilot program and I thank Commissioner [William] Evans and BPPA for their cooperation on reaching this agreement."
The city has not yet announced the program's start date, and is continuing to finalize other policy specifics related to their use. Evans told Boston Public Radio Tuesday that he hopes to outfit the officers with the cameras by early August, and is negotiating the specifics with the BPPA about who will have access to the footage.
Officers can volunteer to take part in the program, which is slated to last for a six-month period, according to the city's statement. Officials said they analyzed similar practices in municipal departments across the country, sought community feedback on the issue, and consulted both the Boston Police Department Social Justice Task Force and Harvard Law School's criminal justice program prior to launching the initiative.
"This is a positive development that brings the Boston Police Department even closer to implementing this important pilot program in the city," Evans said in the statement. "We are committed to building on the trust we have earned with our constituents while keeping our community safe."
Evans also told Boston Public Radio that he hopes to boost the effort following the pilot program by making body cameras a mandatory part of the Boston police officer uniform. Doing so would likely cost the department more than $5 million a year and require hiring around a dozen employees to oversee the program, he said.
In addition to helping to facilitate transparency, Evans said he hopes such footage could give the city a glimpse into life as a Boston police officer.
"I think body cameras never can hurt because we don't have anything to hide," Evans said. "I think what it will show is how difficult our job is and the stuff that we have to put up with every day."