Local
6-alarm Charlestown fire sends smoke billowing above skyline
The blaze was even picked up by local weather radar.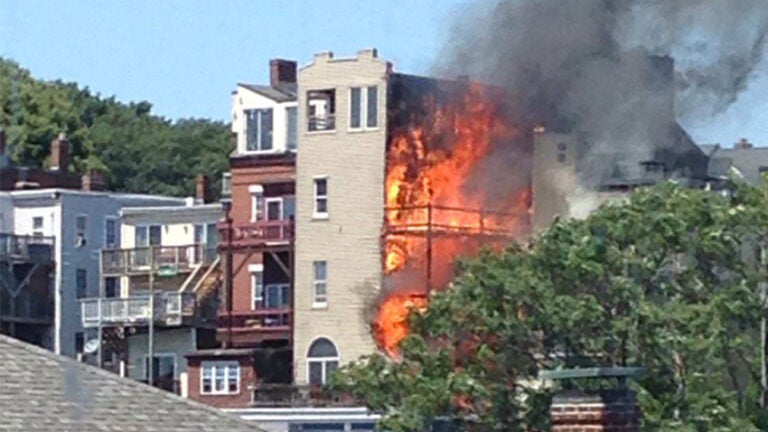 A six-alarm fire in Charlestown had Boston firefighters scrambling to battle the blaze from all angles Thursday afternoon.
The fire broke out around 1:45 p.m. in a four-story brick and wood duplex on Bunker Hill Street, according to the Boston Fire Department.
Photos and video posted on Twitter by Rachele Pojednic from a roof deck in Charlestown a few blocks away showed the flames engulfing the building, as black smoked billowed into the air.
@universalhub Moving down the hill with the wind #charlestown @BostonFire pic.twitter.com/kN2dBQEQIH

— Dr. Rachele Pojednic (@rachelepojednic) July 21, 2016
@PetesWire @universalhub Yes. I have video too if you want it. pic.twitter.com/gGzIYqtd44

— Dr. Rachele Pojednic (@rachelepojednic) July 21, 2016
Officials said Tuesday that no residents were injured in the fire, although one firefighter was treated for minor injuries and taken to Massachusetts General Hospital to be checked out. According to The Boston Globe. a distress call was briefly issued, but canceled after missing firefighters were located.
At one point, firefighters could be seen on the roof of the adjacent buildings.
Firefighters working to knock down large fire in Charlestown @BostonFire #BostonsFinest https://t.co/IcPUl3PvDM pic.twitter.com/vrWtTpmhve

— FOX25 News Boston (@fox25news) July 21, 2016
@universalhub Firefighters on roofs next door. Just were inside building to right. Opened slider to put out flames. pic.twitter.com/s0OltDlpxz

— Dr. Rachele Pojednic (@rachelepojednic) July 21, 2016
According to the Globe, the most of the fire was located near the rear of the structure and it eventually jumped to a second building. Video from a WCVB helicopter show firefighters spraying streams of water from both the ground and neighboring buildings.
Fire officials said residents in the the two affected buildings—which had 10 and three units, respectively—will be displaced. As of Thursday afternoon, they said it was clear how many individuals that meant.
The billows of smoke produced by the blaze blowing in the wind was even picked up by the National Weather Service's radar.
The radar is quite sensitive as it can depict smoke from the Charlestown, MA fire. pic.twitter.com/xNz2PkXX8r

— NWS Boston (@NWSBoston) July 21, 2016
The fire also resulted in Mayor Marty Walsh postponing a scheduled Twitter chat Thursday afternoon.
I am postponing today's @twitter chat due to the fire happening in #Charlestown. To our firefighters: stay safe! @BostonFire

— Mayor Marty Walsh (@marty_walsh) July 21, 2016
In a press conference after firefighters had put down the blaze, Commissioner Joseph Finn said the fire affected three building and caused damage worth an estimated multi-million dollar sum.
https://twitter.com/BostonFire/status/756216979145519104