Local
After a 'disturbing incident' on the T, questions about riding while black
Jamie Davenport stood up for a young black man during an interaction with MBTA police, she said.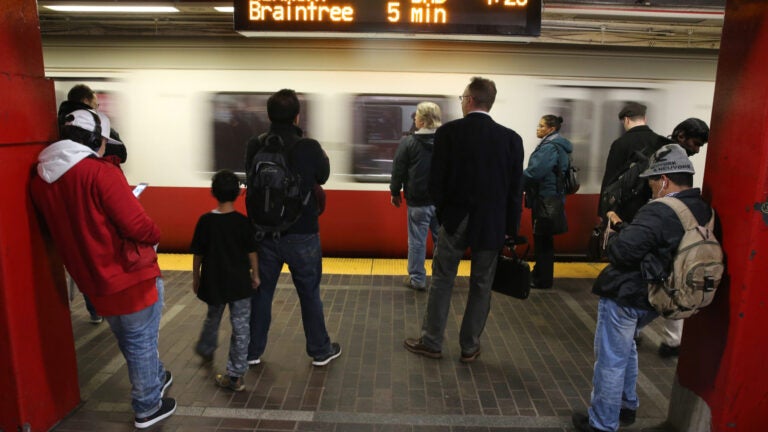 On Wednesday night, 23-year-old Jamie Davenport described what she called an "entirely disturbing" incident she witnessed while riding on the T.
In a Facebook post that had garnered more than 49,000 shares at the time of this story's publication, Davenport described an event when her train was stalled at South Station. A conductor, who had asked a group of black teenagers to quiet down, called on MBTA police after the teens "mouthed off," according to Davenport.
When the MBTA police arrived, they asked the teens to de-board. The teens obliged. The officers then ordered a 16-year-old boy to leave, as well.
The 16-year-old wasn't part of the group—he told the police this, Davenport wrote, but they still ordered him off.
As I begin to put my headphones back on the police reenter the car. They look at the boy and say,

"We said everyone in the group has to get off."

The boy says,

"I don't know them."

The police say,

"It's an order. Everyone in the group has to get off."

I collect my bags. The police looks at me and says,

"Not you. You're not in the group."

The police places his hand on the boys shoulder and guides him off the train. In a moment of temporary rage blindness I stand up and scream,

"He doesn't fucking know those kids."

The police looks at me and says,

"Is that true?"

To which I say,

"Yes, and it was true when he said it too."

The police release the boy and he sits down across from me again. We share a moment of blankness and then tears well in both of our eyes. He waves me over to the seat next to him. He says,

"That was because I am black. Wasn't it?"

I nod. He looks down sheepishly at his shirt and says quietly,

"I'm just happy they didn't hurt me. That would kill my mom. And she is not someone you want to mess with."

I say the only thing I can think,

"I'm so sorry."

He says,

"With all that's going on in the world I am so scared all the time."
In a statement, MBTA Transit Police Superintendent Richard Sullivan said that he took immediate steps to understand what transpired on the stalled train at South Station. He said he reviewed public safety cameras and audio tapes and also spoke with MBTA employees and the "MBTA passenger who raised the matter."
"My preliminary findings suggest our officers conducted themselves with a calm and professional demeanor," Sullivan said in the statement. Those preliminary findings "suggest TPD officers requested a disorderly group of young people exit from the train with the understanding and explicit directions they would be allowed to board the next southbound train."
He continued: "There was another young male, who was seated in close proximity to the group, who was also asked to exit the train. Once off of the train, this male explained he was not with and/or associated with the group. This was confirmed by the larger group as well as an independent passenger. At this point the young male was allowed back on the train and continued about his business."
On Wednesday night around 9 p.m., Mercedes Farguarson said her son, Jelani, called her from the train saying that there was "some confusion," but he didn't want to talk about it right then. When he got home later than his curfew, he told her what happened.
Farguarson said her son was calm after sharing, but that she became angry.
"The kids were telling [the police] that they didn't know him, and it took a white woman to get up and yell and scream and say this kid is innocent for them to leave him alone," she said.
After finding Davenport's Facebook post, Farguarson said she showed Davenport's Facebook picture to Jelani, who confirmed that she was the woman who stood up for him.
Davenport said that the response to her post has been overwhelming, but she wants to reiterate that her point was to share Jelani's story.
"I've been getting a lot of attention for it, but the post doesn't have much to do with me," she said in a phone call. "I was just reporting. … I want to make sure the focus remains on what the post is about, and Black Lives Matter, and not me."
The Transit Police have reached out to Jelani and his mother, according to Sullivan's statement.
"We are continuing to look into this matter and are committed to serving our riding public with the utmost dignity and respect."