Local News
How a blind professor from Boston is educating the next generation of eye care professionals
Blair Wong was diagnosed with Retinitis Pigmentosa when he was 26.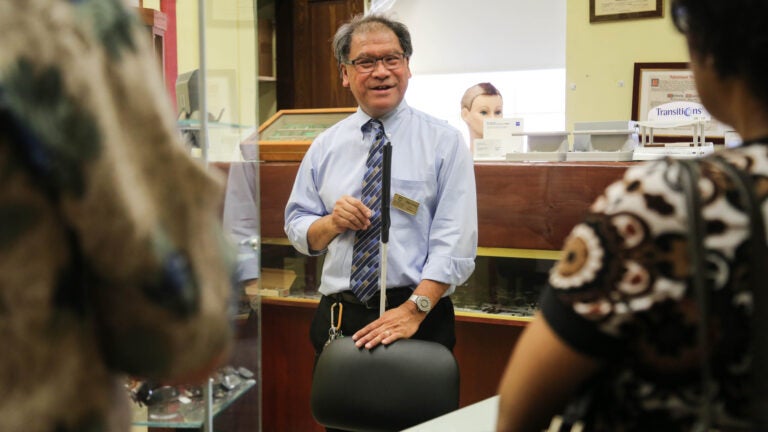 On a recent Monday afternoon, Opticianry Professor Blair Wong told his students to pair up with interns from the Carroll Center for the Blind, who were visiting class that day. For the next 30 minutes, the students were supposed to lead the interns, who were blind, through the narrow hallways of the Ben Franklin Institute of Technology as they went on a tour of the school.
The dozen or so students stood up and walked over to the adults interns, politely introducing themselves before carefully placing their hands on the interns' elbows. Wong stood at the front of the room looking down.
He would need someone to guide him, too.
Wong is legally blind. He was diagnosed with Retinitis Pigmentosa, an inherited, degenerative eye disease, when he was 26 — after he had already started working as a clinical optician, working with customers to make lenses that fit into their desired eyeglasses.
"When people find out what I do, they always say, 'Well, that makes so much sense; you wanted to help people who are like you,'" he said. "But it's an irony of life. I had decided I wanted to go into eye care long before I started losing my vision."
A Massachusetts native, Wong graduated from Newtown North High School in 1976 and then went on to study opticianry at the Optical Institute at Newbury College in Brookline.  He then earned his Bachelor's from Boston College and begin working as an optician.
But it wasn't long before he developed concerns about his own vision. One of Wong's older brothers had been complaining about fading peripheral and night vision for some time, but had never gotten his symptoms checked out. As soon as Wong noticed he was experiencing the same problems, he and his brother went to the doctor together, and were diagnosed with Retinitis Pigmentosa on the same day. 
"The doctor told me that, by the time I was 56 I'd have very little vision left," he said. "I'm going to be 58 in September, and that's pretty much true. I can't really see details. If you and I were sitting at a table together, I wouldn't be able to see the features of your face or what you were wearing." 
Wong didn't want to let his diagnosis stop him from working in eye care, but he knew he'd have to change his approach from working directly with patients. He went to Cambridge College to get his Master's of Education so he could become a teacher for eye care professionals.
"After my diagnosis, I knew I had a certain number of days left to work in a clinical setting," he said. "I moved to education, and I do have a unique relationship with my students because of my blindness."
From their first day in school, Wong's students have learned to be sighted guides. They know the click of his cane as he comes down the hallway. They've seen Wong bump into desks and chairs. They've rushed to his side to help him in and out of the classroom.
"I really look up to him," said Ashley Gomes, a first-year student. "He's able to do so much. It's like, if Professor Wong believes in you, then you believe in yourself, too."
Gomes said she had never considered going to college before she met Wong. She worked in a sunglasses store and didn't know it was possible to have a career in fitting lenses to customers. At the encouragement of her high school counselor, she toured the Ben Franklin Institute and met Wong, who helped her realize she could have a career in helping people to see.
"He's a celebrity in the eye care world," she said. "But he's also a great teacher who will do anything he can for his students. He's patient and a good teacher and wants us to graduate with great jobs we're excited about."
His colleagues are also quick to affirm his celebrity status. George Bourque, an adjunct professor, said he can never go to a optical conference without multiple people stopping Wong to tell them how much they admire him. In addition to being a nationally recognized lecturer, Wong is also an Assistant Professor of Optics at the New England College of Optometry. He was named Massachusetts Optician of the Year in 2011 and won the Opticians Association of America President's Service Award in 2013.
But Wong is quick to say that he's most proud of his students' accomplishments. He has a great track record there too — since founding the opticinary program at Ben Franklin in 2006, his students have graduated with a 99.5 percent job placement rate. He hopes that he's been able to show them that, no matter what obstacles they face, success in the field is possible.
"Part of their careers will be spent with people who have profound vision loss," he said. "Working with me helps them understand what they really can do, as well as their pateince with those who see well and those who don't."
As they prepared to lead the interns through the school on a tour, the students stopped to make sure Wong had enough room to pass. Bourque grabbed his elbow and guided him through the hallways. Wong couldn't see his students patiently leading the other visually impaired guests, but he could tell from the steady clicks of the canes they were doing a great job. He followed along behind them, smiling the whole time.