Local
Police plan protest of Black Lives Matter banner at Somerville City Hall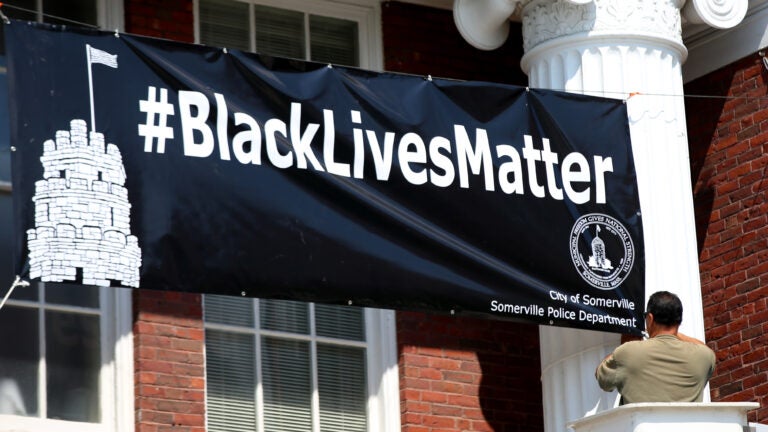 After Somerville Mayor Joseph Curtatone denied a request from a city police union to remove a Black Lives Matter banner from City Hall, the union announced it will hold a rally to protest the banner's "disrespectful" message, according to a release from the Somerville Police Employee's Association.
"In the face of the continuing assassination of innocent police officers across the country as an apparent offshoot of the BLM movement, it is irresponsible of the City to [publicly] declare support for the lives of one sector of our population to the exclusion of others, including police officers," the union's release said.
On Thursday, officers from the association, along with others from the Massachusetts Municipal Police Coalition, will hold a rally outside of City Hall from 5:30 to 7:30 p.m.
"The rally will be peaceful and respectful, but will demonstrate the solidarity of police organizations in Massachusetts to the exclusionary message that the banner sends," the release said.
Last week, the association, which serves as the bargaining unit for 90-95 patrol officers, sent a letter to Curtatone, calling the banner "deeply" troubling and asking the mayor to replace it with one that reads "All Lives Matter."
But Curtatone said he doesn't plan to remove the banner, and noted that a second banner above the city's police headquarters honoring slain officers shows that he stands with the officers and doesn't intend to exclude them.
"My unwavering support for our police officers does not and cannot preempt our commitment to addressing systemic racism in our nation," he said in a statement last week. "Violence is never justified, and that is the message that both of our banners— for Black Lives Matter and for the slain officers—are intended to make."
Curtatone hung the banner above City Hall nearly a year ago. The Somerville Police Department's chief, David Fallon, said he supports the city's initiative, and called for the union to open a dialogue about the issues at a press conference last week, according to The Boston Globe.
"If you want to talk national issues about what's going on, there needs to be more dialogue, not an open letter to the mayor," Fallon said.
Still, the union remains unsatisfied with Curtatone's response.
"While we support the core goal of the BLM movement — equal treatment under law — we find the banner's message disrespectful of police officers and potentially encouraging to individuals who pervert that message through indiscriminate murder of our counterparts around the country," the release said.