Local
Boston police commissioner: It's been a 'hard sell' to get officers to volunteer for body cameras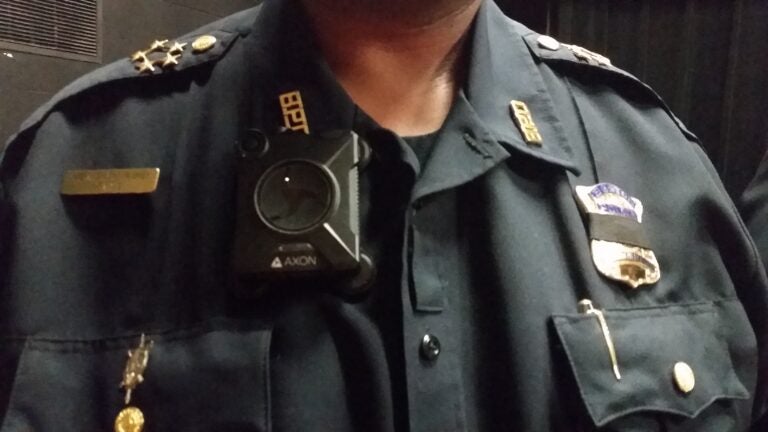 A body camera pilot program is coming to Boston's police department this year, though there were still many questions from community members Thursday evening about the program's policy and its official start date.
Police Commissioner William Evans responded to community members at a city council public community hearing Thursday night. It was the first time Evans attended a public community hearing about body cameras since the program was announced.
Over 70 people gathered at the Mildred Avenue Community Center in Mattapan to hear Evans speak. Patience was Evan's main message.
"Back in September, we committed to the body camera pilot program and I made it very clear we weren't going to rush into this program," Evans said during the meeting. "I want to get it right."
Members of the City Council, the Boston Police Camera Action Team (BPCAT) —a community group that's been pushing for the program with officials for two years— and community leaders expressed feelings of gratitude toward the Boston police department and Evans for the "open dialogue" about the program, but also took the opportunity to express their concerns about the program's policies.
The main questions asked included when the program will officially begin, why it's voluntary for officers to be a part of, why officers will be given the opportunity to review footage before writing incident reports, what the disciplinary procedures for officers who don't adhere to policy will be, and how success or failure will be measured.
The department announced in mid-July that it had reached an agreement with the police union to conduct the program after promising for months to provide up to 100 cameras to patrol officers for the six-month test. Evans said he hopes to start the program by September 1 after multiple community meetings.
The trial program is intended to be voluntary for officers, each of whom will receive $500. The officers will span five districts and be of diverse races, backgrounds, and shifts, Evans said.
The department is still currently seeking volunteers. As of Monday, no officers had signed up, but the department has recruited some officers to participate this week.
"It's been a hard sell," Evans said.
Evans said if the department does not reach its 100 volunteers, he will start assigning officers to participate in the program.
The cameras will be activated only in the course of an officer's official duties to record all interactions with the public, including vehicle stops, and will continue until encounters have concluded, according to a copy of the policy. People will only need to give consent to be recorded if an officer enters a home without a warrant, the policy reads.
Many community members still had concerns about the policy in regards to recordings of police-involved shootings. The policy states that officers will not be able to view the recording of the shooting before investigators, but would be allowed to view the recording before providing their own statements. Evans said he reviewed reports and recommendations from cities with similar programs, and that the majority of them also adhered to this viewing policy.
As for disciplinary enforcement for officers who don't adhere to the outlined policy, Evans said its always officer and offense specific.
"We never, ever have specific rules or punishments spelled out for any of our policies," Evans said.
After the six-month period concludes, two Northeastern professors, Anthony Braga, director of the school of criminology and criminal justice, and Jack McDevitt, director of the Institute on Race and Justice, will evaluate the program and release their findings in about two months. Evans said the city will use a cost-benefit analysis and the recommendation of the professors to decide whether officers will be mandated to wear the cameras moving forward.
It is still unclear how much footage will ultimately be recorded, but Evans did say no footage from the pilot program will be deleted during the program and that it will remain on the department's external drive for a year before being deleted, barring any relevant investigations or legal cases. The cameras themselves will be contracted through two outside vendors.
Boston City Councilor Andrea Campbell, who led the discussion, said this would not be the last community meeting about the program. She said there are plans to hold additional public forums after it has launched, at the three and six-month marks.
Throughout the meeting, police department and body camera advocates both talked about a desire for not only officer accountability from the program, but also increased community trust—something BPCAT co-founder Shekia Scott said she thinks the department could be better at.
"Building trust isn't as simple as handing out ice cream cones," Scott said, referring to the department's new ice cream truck.
Evans later responded to the comment, saying he thinks body cameras are only a small part of trust building.
"No one does more than us to be out there in our community, so if you think a body camera is the sole answer, you're crazy," he said.
Police Superintendent Kevin Buckley, who also sat on the panel with Evans, added that he agrees "building relationships of trust is what counts," but that "body cameras are just another tool in the belt."
City Councilor Tito Jackson, who's been a proponent for body-worn cameras on every Boston officer since sponsoring the order in March, said he wanted to remind community members that the body camera program is not punitive or blaming officers.
"We lead, we don't follow with community policing in Boston," Jackson said. "And this is what community policing looks like in 2016."