Local News
Boston Public School students designed the new artwork on the Orange line trains
The project is based on in-person interviews with Bostonians about the theme of 'journey.'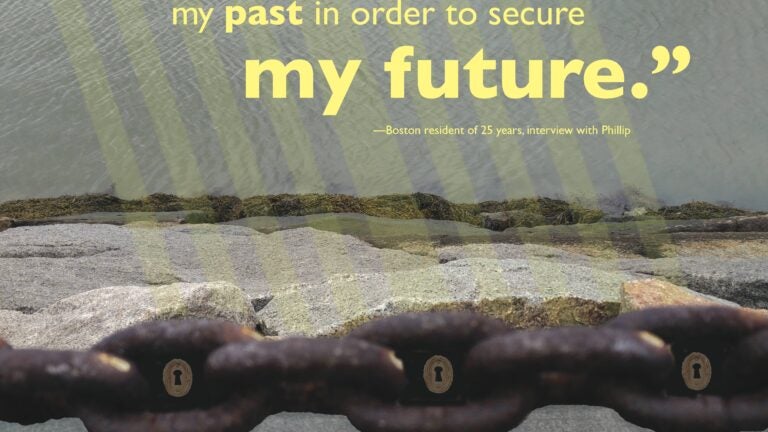 Phillip Tran's father was born an orphan in Vietnam, and grew up working farm and factory jobs in order to feed himself. He met his wife while working on a farm, and eventually, they saved up enough money to move to the U.S. When Tran asked his father about the experience, his dad told him, "I had to leave behind a piece of my past in order to secure my future."
That quote is now featured on a poster that lines the inside of Orange and Red Line trains, and is part of a new art exhibition from Boston Public School students. The exhibit, titled In Transit: Voices and Vision, was created by high school students who channeled the psychological and physical journeys of Bostonians into 14 posters, which will stay in place until September 4.
"We came up with the theme of 'journey,' because people are on trains, on their daily journeys to work and school," said Lisa Link, one of the exhibition's organizers. "Most Boston Public School students have to take the MBTA to and from school, so [we] felt the MBTA was a great public space to showcase community engaged artworks, since so many Bostonians spend time riding each day."
The 21 student artists began working on the project in November, and met every Thursday as part of the Urban Scholars program at UMass Boston. The program's mission is to help Boston youth prepare for college, especially those who are from low-income families or who will be first-generation college students.
During each session, the students worked with three professional artists, including Link, a photographer whose art focuses on political and social issues. The artists helped coach the students on how to interview family members, teachers, and co-workers, then helped them pick the best quotes to feature in their works.
Quanye Hoskins interviewed a teacher at TechBoston Academy to design his poster. During their interview, his teacher told him that, "A journey happens while you're busy embracing your limits," which is a quote that stuck with him.
"I thought about what kind of images would speak to a journey, and the first thing that popped into my head was a sky with clouds and person flying," he said.
"That's what I did, and it directly gives the message around the quote."
Link, who worked along with Brad Bleidt and Suamy Ventura, said she was excited to see the posters on the MBTA trains Monday morning.
"We hope that patrons will be inspired, and that their daily commuting journey will be more interesting," Link said. "We also hope folks will recognize the positivity and creative spirit of the thousands of young people who they ride the train with each day."