Local News
Restaurateur Barbara Lynch shares her favorite recipe
The Boston-bred chef outlines how to make Strozzapreti, which is served at her restaurant Sportello.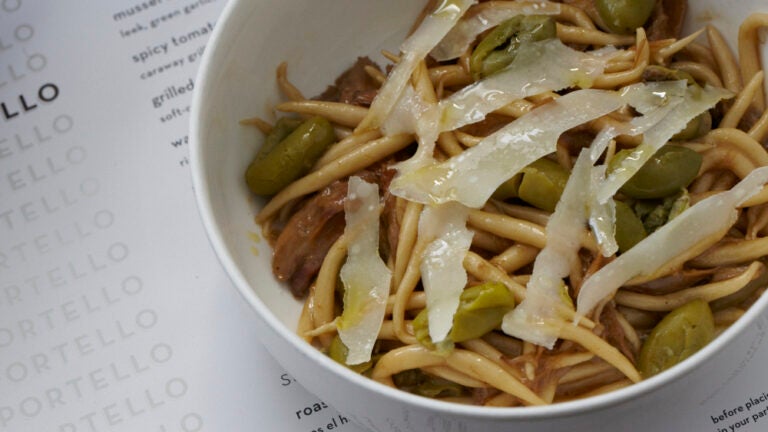 When Barbara Lynch set out to open her restaurants, she wanted to add something to the Boston food scene that didn't exist before. She now has seven distinct culinary establishments to her name, all of which are located in Boston's Fort Point, South End, and Beacon Hill neighborhoods.
Lynch shared her feelings on the MBTA and the city's food scene in a recent interview with Boston.com. She also shared one of her favorite recipes, Strozzapreti, a hand-rolled pasta that she cooks in rabbit stock.
Here's how you can recreate the recipe, which she serves at her restaurant Sportello, in your own home:
Ingredients
For the pasta
2 cups of strained rabbit stock
1 cup of chopped green olives
3 sprigs of fresh rosemary
1 whole rabbit broken down (forearms, thighs, loins). Reserve the carcass for the stock
Fresh Strozzapreti
Salt and pepper to taste
Parmigiano cheese to taste
For the pasta dough
2 ¼ cups of bread flour
1 tablespoon of extra virgin olive oil
¼ cup of warm water plus ½ cup just in case you need more while rolling out the dough
1 cup of semolina flour
For the rabbit stock
2 tablespoons of extra virgin olive oil
1 rabbit carcass, chopped
1 small onion, peeled and diced
2 ribs celery, diced
1 carrot, peeled and diced
2 garlic cloves, peeled and diced
1 cup of white wine
Method
To make the pasta dough
In a mixing bowl, combine the flour and water, mixing with a fork until well incorporated. Place the mixture on your work surface and knead for about 5 minutes.
Let the dough rest a minimum of 10 minutes, or up to an hour. If your dough looks dry, add more water as needed until it forms a smooth ball.
On a lightly floured surface, roll out the dough to about 1/8 inch thick and about 18 inches square. Rub the surface of the dough with about 1 tablespoon extra virgin olive oil, making sure to coat it evenly. The oil enriches the dough and also helps keep it from drying out.
Add a mound of semolina flour near your work surface and cut the dough square into strips approximately ¾ to 1 inch wide. Starting at one end of a strip, use the heel of your hand to roll the strip gently back and forth on the work surface, stretching it lengthwise until it forms a rope about ¼ inch in diameter. If necessary, rub a little water on the work surface to help the rope roll more easily.
As you roll, set the shaped portion of the rope in the semolina mound to prevent it from sticking to itself. You should end up with a rope 5 to 6 feet long. Repeat with the remainder of the dough.
Once all of the dough is rolled, lay it in parallel lines on a sheet tray with semolina flour and parchment paper. Leave the pasta out for 2 hours or freeze until you are ready.
To make the rabbit stock
Heat the oil over medium heat in a medium-sized braiser. Add rabbit bones and brown, the remove the bones and set aside.
Add forearms, thighs and loins, and sauté until browned. Remove and set aside.
Add onion, celery, carrot and garlic, and sauté until softened and fragrant. It should take about 7 minutes.
Add wine, scraping up any browned bits, then add the bones and enough water to cover.
Bring back to a boil and cook for 1 hour.
Reduce to a simmer and cook for an additional hour. Cool, strain and reserve.
To make the pasta
Pour the strained stock in a sauce pot, bring to a simmer and reduce over medium-low heat for about 10 minutes.
Add chopped olives, rosemary and rabbit meat, and cook for another 20 minutes.
Pierce the meat with a fork – it should pull away from the bone easily.
Remove the meat, chop into smaller pieces and add it back to sauce, continuing to reduce for 10 minutes.
Toss with cooked Strozzapreti, season with salt and pepper to taste and garnish with grated Parmigiano cheese.