Local News
Restaurateur Barbara Lynch shares her thoughts on the MBTA, Boston's nightlife and overcoming her doubts
The Boston native was the second woman to win the James Beard award for "Outstanding Restaurateur."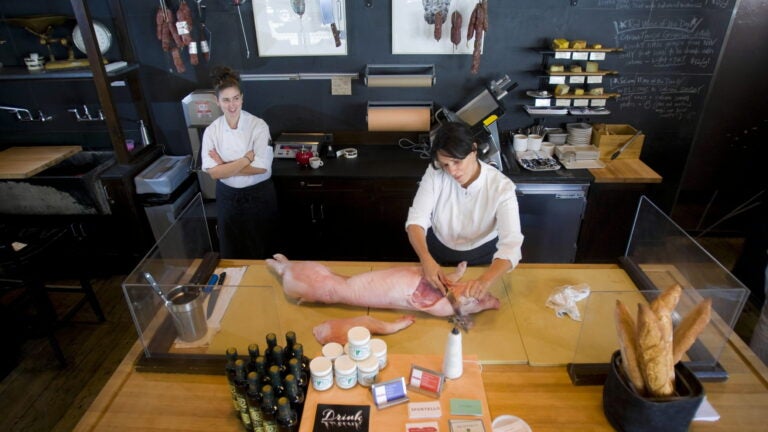 Long before she had a collection of renowned restaurants to her name, Barbara Lynch was a self-proclaimed troublemaker who stole an MBTA bus and worked as a runner for local bookies. After growing up in a housing project in South Boston, Lynch dropped out of Madison Park High School because she was behind in her credits and didn't feel like going to summer school.
That no-nonsense attitude ended up working to her advantage. Lynch has opened six restaurants in Boston, and also manages Stir, a demonstration kitchen and cookbook store. She is also the second woman to be awarded the James Beard Foundation Award for "Outstanding Restaurateur."
Two years after she earned the prestigious award, Boston.com spoke with Lynch about whether she's ready to expand outside of the city, if Boston's nightlife is really as bad as people say, and her love/hate relationship with the MBTA.
Here's the obvious question. How did you get into cooking?
I always figured that if I could cook, I'd always have a job. I remember reading a magazine article from my mother's magazine Good Housekeeping, and it was like a recipe for stir fry or something that had like 20 ingredients. I looked at it and thought, 'that's going to be hard, there are too many ingredients,' but I did it. And once I made it, I thought, 'it's delicious,' and I started to like cooking. I was 12 when that happened.
What was your first paid cooking job?
It was at the Soda Shack, which is no longer there. I was just putting together steak and cheese subs, but I loved it. From there I went to Brigham's in Boston, which was this little ice cream shop, and I was there just like five weeks for a summer job. I was 15.
You grew up in South Boston in a housing project, and had a pretty famous neighbor. Can you talk a little about that? 
I lived in the Mary Ellen McCormack housing project, which is one of the oldest ones in the country. Yeah, Whitey [Bulger] lived near us. I do remember Whitey actually lending my little brother John and myself a leash for my dog. We were just letting it run around, and he's like, 'Hey here kids you need a leash.' That's the most vivid memory I have. We didn't really hang out with Whitey, though. He was much older.
I have to ask — I read in an interview that you stole an MBTA bus when you were 13. Can you elaborate on that at all?
Oh that [laughs]. It was one of those days when I skipped out of school early. I went to Cardinal Cushing, which is right near Broadway station. I was with a few of my friends, and when we got out of school, the bus was just idling. So I said, 'Let's just take this bus!" And a few were like, 'No, you're not getting on,' but I did and just took it and some of them followed me. I drove it for about half a mile, then stopped the bus and said, 'Let's get out of here.'
Did you get caught?
Nope, we never got caught. But my friends still laugh about it to this day.
A lot of people have a love/hate relationship with the T. Which side do you fall on? Or are you in between?
I love the T. They do the best they can with the equipment and trains that they have. I wish we had longer trains to fit more people, and a better commuter rail, especially to the Cape because the South Shore is a nightmare. I also wish it would stay open until at least 3:30 in the morning. It's ridiculous because [the way] Boston is built—especially south Boston—you still have the post office workers, Gillette workers, restaurant workers, and we had all these plants that people worked the night shift. If you want a bustling city, the T should be working 24 hours.
You didn't graduate from high school. Why was that?
I was in high school during the busing crisis in Boston. It was a very chaotic time. I went to Madison Park, so I was bused to Madison Park High in Roxbury, which was pretty much a war zone because of all the tension. The only way they could get me to stay in school was to let me keep taking take home economics. You're only supposed to take it for one year, but I ended up taking it for four years. At the end of my high school sessions, I was two points behind and had some credits I needed to make up. So they wanted me to go to summer school and I was like, 'No way, I'm out of here.'
When you left school, did you know that you wanted to pursue a career as a chef?
Not at all. But I did keep in touch with my Home Ec teacher. For years working I was in restaurants in Boston thinking that I should open one because I enjoyed the restaurant industry hospitality business.
You learned the ropes in Boston and have opened your restaurants here. Have you ever thought about expanding outside of the city? 
Now I am. I have eight different concepts, and I felt like putting them in Boston. This city has always been great for me, and it was missing a few restaurants. I wanted to open an oyster bar, a butcher shop, and a cocktail bar, and, of course, now we have plenty of them. So I'm looking to expand, and I might open one up here in Gloucester, but I'm also looking in France and in Italy.
How would you describe the current food scene in Boston?
Well, Cambridge is blowing us away in terms of originality and smaller-type restaurants mainly because it's more affordable. In Boston, the rents are too high right now. I don't see small independent restaurants opening in Boston. You see them farther, in the suburbs, because they're more doable.
I don't like to see what happened down at the Seaport District. It's like Disney World. I mean, how many steak restaurants do we need? We don't live in Chicago. It's crazy, all the large commercial restaurants. But they can afford $80 a square foot, and we can't. The high rent means volume, not quality. When you have smaller restaurants, you can pay attention to farm to table or fish to table, but there's only so much quality a person can have in those big spaces.
There have been articles criticizing Boston as not being much fun. Do you have any thoughts about that?
Well, it depends on what you mean by fun. I personally don't think there's anything good that happens after 2 in the morning. Quite frankly, there are places you can have fun, and maybe they're more in neighborhoods than in downtown Boston. But maybe it's good that way.
I also read an article where you said that, after all you've achieved, you still weren't very confident in yourself. Did that change for you after you won the James Beard award?
I'm more confident in me, myself as a woman now and as a business owner. I've taken my company over twice because of people just trying to push me out. I don't have business partners, it makes me stronger and it makes me smarter. When I first started, I was green in financials and green in cooking. But I had that vision and stuck to it.
What was your vision?
My vision for restaurants was what I knew I could handle. I would have 60 to 80 seats. I didn't want a 180 seat restaurant that I couldn't fill. And I didn't want nine No. 9 Parks. I wanted a staff that I could retain so I could give them opportunities.
How did you deal with any doubts you had about following your vision?
As a woman in business, you can succeed as long as you stick to your vision and don't flip flop. I'm not in it to be just a flash in the pan. I am confident now because I'm a woman without business partners, and a pretty respected one. I'm always going to doubt myself to some extent, but that makes you grow, and I like to face those challenges.
You opened a restaurant with your niece, right? What was that like? 
I helped her and held her hand. She was a nervous wreck. She had this cupcake store called Baby Cakes, and I loved it. I said, in five years you're going to want to grow, and she said, 'No Auntie Bubs, you're crazy.' But then she came back and wanted to, and I said, 'I'll walk you through it. Let's do this.' She's killing it now. She's very gregarious and well known in Quincy. I knew she'd do well, it's identifiable food, and it's what people want.
Do you have plans to open more restaurants?
Well, I have a memoir coming out in April, so that's going to be a busy time for me with the book tour. Then we're taking "Stir," our cooking demonstration kitchen, on the road. We're going to Piedmont, Italy, then Montreal, and the third one's in France. We're also having dinners with my chefs from all the different restaurants that I don't get to work with as much so I can mentor them. That's fun.
You were the second woman to win the James Beard award. Do you have any advice for young women in your field, or women in general who doubt themselves because they're in male-dominated industries?
All over the country women reach out to me, usually via email or if I have a speaking engagement. They'll send me an email, and I'll tell them that I'll help with whatever they need. But I also say, 'forget about being a woman.' Are you going to waste your time and energy on negativity? If you're in a negative situation, get out of it. You have to be happy and you have to be content in what you're doing. If you're going to work most of your life, you better be content at where you are. A woman can do anything she wants. We're the multi-taskers. We get shit done. It's not easy, but if life was easy, you wouldn't grow.