Local
Harvard dining hall workers go on strike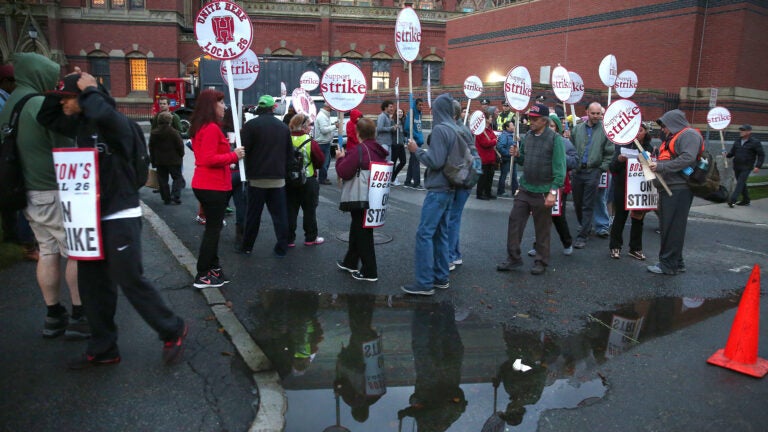 Harvard University's dining hall workers are going on strike Wednesday after failing to reach a contract agreement with the school administrators, The Boston Globe reports.
Picketing began at several campus locations around 6 a.m., and a rally at the Harvard Science Center on Oxford Street is slated to begin at 9 a.m., according to the Globe.
HUDS workers file by on strike outside Annenberg, shouting, "No justice, no peace!" @thecrimson pic.twitter.com/UPlDoRrHVw

— Hannah Natanson (@hannah_natanson) October 5, 2016
"We are here, ready to fight. Early in the morning, late at night." @thecrimson #hudsstrike pic.twitter.com/Wk5eEv2JUg

— Brandon Dixon (@BrandonJoDixon) October 5, 2016
HUDS strikers shout, "If we don't get it, burn it down!" #HUDSstrike @thecrimson pic.twitter.com/11FmXgy9ZX

— Hannah Natanson (@hannah_natanson) October 5, 2016
The HUDS workers have been negotiating with the school since May,  according to The Harvard Crimson. The union representing the 750 dining hall workers announced Friday its intention to launch an open-ended strike if a new contract wasn't reached by noon Tuesday. Their contract expired on Sept. 17.
Brian Lang, president of UNITE HERE Local 26, which represents the food service workers, told the Globe negotiations fell apart over wages and health care.
"I think it's quite simple. Harvard, although they have the means to settle this, it doesn't seem they have the will," Lang said. "And [workers] are determined and looking forward to demonstrating that determination [Wednesday] when we strike. . . . We hope the forces of fairness and equality are going to prevail."
According to the Globe, the union is holding firm on a minimum annual salary of $35,000 for workers who want to work a full year, as opposed to the academic calendar. The university has proposed paying a stipend for workers who are available during the summer and offered a 10 percent wage increase over five years that would raise the average hourly wage from $21.89 to $24.08, according to the Globe.
Harvard said in a statement to the Globe:
We have proposed creative solutions to issues presented by the union, and hoped union representatives would contribute to finding creative, workable solutions at the negotiation table. They have been unwilling to do so. . . . We are disappointed that they have been more interested in planning a strike than working on a solution that meets the needs of their members and the wider community. Harvard is now focused on working to mitigate disruption to our community members, many of whom rely on Harvard University Dining Services for their on-campus meals.
 This is the first time a strike has occurred during the academic year, with the last strike taking place in June 1983, the Crimson reports.
Harvard informed students in a memo that due to the strike, only select dining halls would serve breakfast and that Cabot, Dunster, and Kirkland houses would be closed.
In advance of the strike, the university began stockpiling frozen food at the dining halls, according to the Crimson.
A Harvard student wrote in a piece for The Washington Post that students were hoarding food in tupperware containers and backpacks to prepare for the strike — a tactic the Crimson advised in a playful "survival guide" blog post.