Local
King tides are fun—until they become an everyday reality
As Boston feels the effects of climate change, this week's ultra-high tides will be the norm.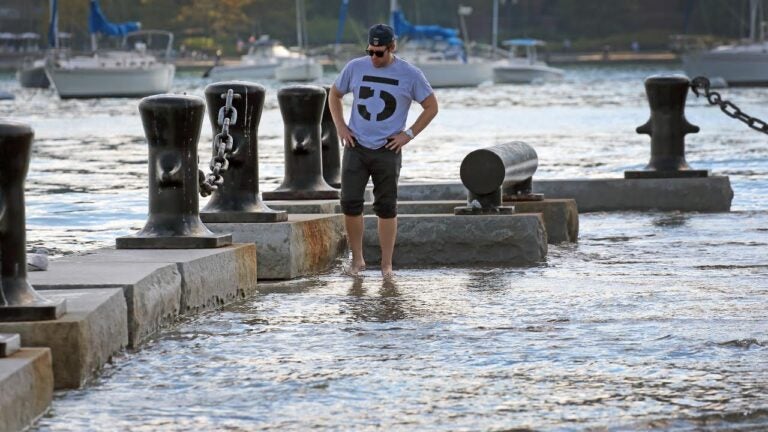 The so called "king tides" earlier this week were a fun rarity for those who dipped their feet (or more) into Boston's flooded waterfront.
But the ultra-high tides, combined with the unseasonably warm mid-October weather, also served as a reminder of what's in store for Boston and the coastal Northeast.
By 2070, the king tide-type of sea level rise seen this week is likely to be a daily occurrence, according to a city report.
King tides themselves are unrelated to climate change. According to Sara Grady, an ecologist at the North and South Rivers Watershed Association, the seasonal king tides, which are 1.5 to 2 feet higher than average daily high tides, are caused by an alignment in the orbits of the sun, moon, and Earth.
"That said, they provide a great outreach tool and preview of what sea level rise will look like on our coast," she said.
Grady referred back to a report released in June by the City of Boston's climate change initiative, Climate Ready Boston, which found it was likely Boston would see a 1.5 to 3.1 foot rise in daily tides by 2070. According to the study, there is a 83 percent chance the sea level increase will be a minimum of 1.5 feet. By 2100, those odds are just shy of 100 percent.
"You're not going to escape it" says Curt Spalding, New England's regional administrator for the Environmental Protection Agency, calling the forecasted 3- to 6-foot climate change-induced increase in sea levels by the end of the century "as inevitable as the sun coming up."
"Remembering that these tidal cycles have been going on since the beginning of time for people, but in the last 100 years because of climate change, sea level rise is making the tides higher because they're starting from a higher base," he said.
Spalding says the Northeast Atlantic is expected to see higher sea level rise than other places (as it has since 1950) and that the region's current infrastructure and sea walls are not "sufficient" to handle the increase. As both he and Grady noted in separate interviews, this forecasted sea level rise—which Spalding says appears to be accelerating with each new projection—is simply "stillwater" elevations.
What's more "troubling," Spalding said, is that the highest tides of the year also align with storm season, creating an even-heightened risk of flooding as sea levels go up.
"If you stack a tropical storm, a tidal surge, on top of a king tide like event, which is really just the tides we have in October, we're looking at a very significant risk," he said.
Sasaki Associates, a Climate Ready Boston partner, created an interactive map illustrating what parts of the Boston area would be flooded during a major storm, taking into account sea level rise, in 2050. The projections for 2100 show roughly the same area flooded solely by sea level rise, even without a storm.
"Thats the kind of flooding that happens with every high tide," said John Cleveland, the executive director of Climate Ready Boston.
Cleveland said the most affected areas will include East Boston, Charlestown, Downtown Boston, the Seaport, South Boston, and the South End. While those areas would be able to recover from storms every once and a while, that would not be the case with chronic flooding.
"If that starts to happen on a reg basis, that makes those sites unviable," he said.
Fortunately, Spalding said leaders in Boston have been proactive in assessing and preparing for those risks. The Boston Green Ribbon Commission, a coalition of city, state, private, and nonprofit representatives working to develop shared strategies for fighting climate change, is one of the "leading entities in the country, if not the world," he said.
Carl Spector, Boston's commissioner of the environment, said the city has been planning how to address the effects of climate change, including sea level rise, on both a short-term and longterm basis. Along with regular vulnerability assessment and emergency preparedness efforts, Spector said the city recently received grants to engage specific locations in East Boston and Charlestown on preparing for sea level.
For the long term—50 to 70 years into the future—Spector says the city is looking at ideas such as a harbor barrier.
According to Spalding, one bright light in this looming predicament has been in the ability to predict the impacts of sea level rise.
Federal efforts to model how sea level rise will affect coastal geography has improved by leaps and bounds in the last four or five years, he said, which has helped officials like Cleveland and Spector prepare. Spalding plugged his agency's Resilience and Adaptation in New England (RAINE) Database, which includes 170 communities and allows individuals to look up what their local town is doing to prepare.
"All we have is time. If we wait too long, we won't have the time to solve the problem," Spalding said, stressing the irreparable and potentially disastrous effects of climate change.
"If you think about some of the wonderful coastal communities in Massachusetts and New England, this really speaks right to our heritage and our character," he said. "Almost nothing is most important in terms of what New England is going to look like in 100 years."