Local
6 questions about the Mass. Pike's new tolling system, answered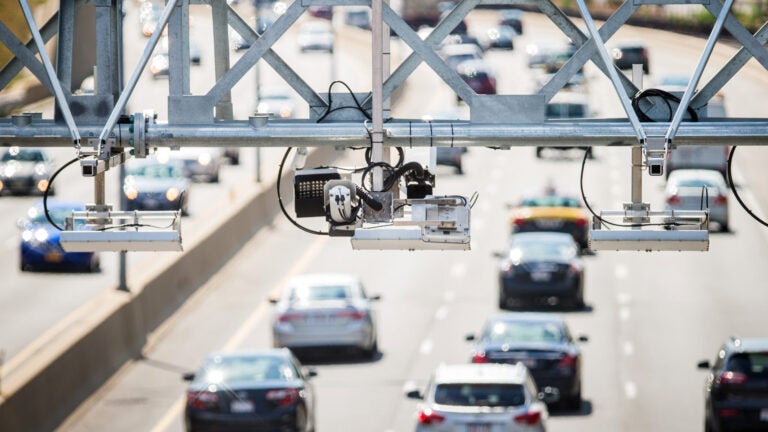 BOSTON (AP) — Stopping or slowing down at a tollbooth on the Massachusetts Turnpike is about to become a thing of the past.
A new tolling system goes into effect Friday night along the east-west highway that runs the length of the state from Boston to the New York state border. Tolls will instead be charged as vehicles pass under 16 electronic gantries that have been spaced along the roadway, and demolition of the tollbooths will begin.
The Associated Press spoke with Thomas Tinlin, the state's highway director, about the launch of all-electronic tolling in Massachusetts.
___
AP: What happens Friday night when the changeover occurs and what should motorists expect?
Tinlin: At 9:45 p.m., we stop manual toll collection and then at 10 p.m., we start using the gantries to process the transactions and that is how people will pay.
We set up new traffic patterns and we push traffic to either the furthest left-hand side or furthest right-hand side of the (current) toll plazas. Once we have those lanes set up using barrels and barriers and lane markings, this will be people's traffic patterns up until, the latest, Nov. 22. That frees up the centers (of the toll plazas) for us to go in with heavy equipment and begin to demolish the existing toll plazas. What we then do is channel the traffic into the center of these legacy plazas, which will also serve as the final lane alignment.
AP: So traffic could get a little worse before it gets better?
Tinlin: With every positive outcome, you tend to have some unpleasantness to get there. When we set up a construction zone right now on any road in the commonwealth, we generate traffic impacts. So when we have 23 setups on 132-plus miles of road, we know we're going to have some backups and inconvenience. So we're telling people to think of this as a snowstorm that goes until Nov. 22. Plan your trip accordingly.
AP: What about those who don't have EZPass transponders when all-electronic tolling begins?
Tinlin: We put them in the 'pay-by-plate' category, which means we will mail them a bill that will show that on these dates you went under these gantries at these times and we'll ask people to pay by mail. They will pay a higher toll rate.
What we're hoping is that people will migrate to (EZPass). Similar to what you might call the last-minute Christmas shoppers, we're seeking a whole lot of activity at our service centers and online. We have issued over 170,000 transponders (from) Aug. 22 through Monday. At the same time last year we issued about 44,000.
AP: What about out-of-state drivers who don't have transponders?
Tinlin: Regardless of where you live we're still going to send you a bill. Currently in New Hampshire and Maine we have reciprocity agreements where if I'm a pay-by-plate customer and I go through tolls in new Hampshire and Maine and I go back to my RMV in Massachusetts to renew my driver's license or registration, they are going to say, 'Wait a second, you have to go pay the tolls you owe in New Hampshire and Maine.' The same holds true for our customers. We have (sent) reciprocity agreement letters to New York, Rhode Island, Vermont, Connecticut, Delaware, asking those states if they want to enter into agreements with us.
AP: Under the new system, some drivers will pay higher tolls than they do now, some lower. Why?
Tinlin: When you go from the 26 previous locations to pay your tolls to 16 gantries, obviously, not everyone is going to pay the same. We engaged a traffic and revenue consultant to look at what we currently pay and what would allow us to maintain a revenue-neutral program. About 64 percent of our existing customers will see their rates come down or stay the same.
AP: How do you answer privacy concerns raised about potential use of information the gantries will electronically record?
Tinlin: All we want to do is save the information for as long as we need it to provide good customer service, and then purge it out. As I've told people before, we're in the toll business. we're not in the spy business, we're not in the CIA business, I don't care how fast you're going. I don't care if you were in a location that maybe your wife didn't want you in. All I want to do is make sure you pay and that's it.
___
Online: http://www.massdot.state.ma.us/highway/TollInformation/AllElectronicTolling.aspx