Local
New Bedford fishermen net sea scallops—and the richest catch in the country
The "Whaling City" needs a new name.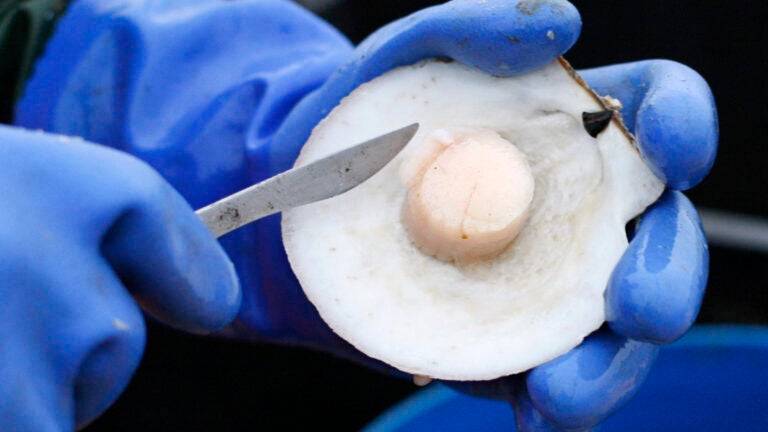 Who knew a such a tiny mollusk could turn such a hefty sum.
According to a federal report Wednesday, the city of New Bedford retained its pole positions as the nation's most-valued fishery in 2015, pulling in a total catch worth $322 million.
According to the National Oceanic and Atmospheric Administration's annual fisheries report, New Bedford total haul weighed 124 million pounds.
While that amount wasn't even enough to land New Bedford in the top 10 ports for total quantity (Dutch Harbor, Alaska topped that list with 787 pounds of mostly pollock and cod), it yet again made the Massachusetts port the richest—by more than $100 million. They were first by even a wider margin in 2014.
Why? Sea scallops.
According to the Associated Press, the pricey seafood delicacy (the larger counterpart to the bay scallop) accounted for more than three-quarters of New Bedford's catch. More than 60 percent of the 35.7 million pounds of sea scallops were caught in Massachusetts, according to the NOAA.
The NOAA put the price of sea scallops at $12.26 per pound in 2015, slightly down from 12.55 per pound in 2014. But that's still more than double the market price during the mid-2000s.
As The Boston Globe reported in 2013, the New Bedford scallop industry has buoyed the lives of fisherman in an otherwise struggling city.
In a city with persistent high unemployment, poverty, and attendant drug and crime problems, the small mollusk is producing a stable livelihood for the more than four thousand fishermen and other workers who supply the fleet of draggers crowding this old port. Scallops make up an estimated 80 percent of the $411 million in landings in 2012, and the fishing industry as a whole generates some $1 billion a year in economic activity.

"There is such a trickle-down effect for people who sell fuel, who fix boats, who do welding, painting, cleaning," said Isaksen. "The fishermen feel like they can spend money. They're buying better cars now, better trucks. Instead of getting a run-of-the-mill Sierra, they are getting a Denali."
They can probably also afford to purchase their own catch, rather than cheaper seafoods, when dining out as well.
That said, New Bedford did not come close this year to approaching the national record for highest-valued catch, which the city set in 2012: $411 million.