Local
Here's Boston's 2016 Christmas tree—in its natural habitat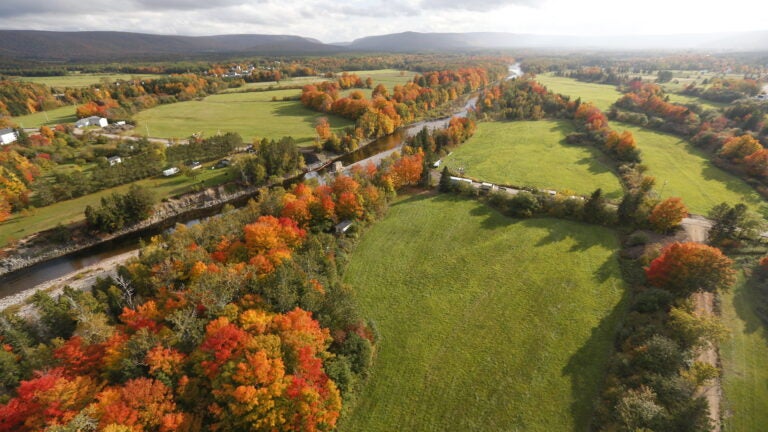 Before it is strewn with lights and illuminated amid a flurry of fireworks on the Common next month, Boston's 2016 Christmas tree sits unassumingly off a two-lane road in a tiny Nova Scotian village.
This year's tree has a longer trip than any of its predecessors.
For the first time in the 45-year tradition, an annual showing of gratitude, the tree comes from Cape Breton, the scenic, north-easternmost island region of Nova Scotia. Each year since 1971, the Canadian province has given Boston a tree as a thank you for the city's response following the 1917 Halifax Explosion.
The 47-foot white spruce is set to be cut down during a public ceremony Tuesday and will receive a public send-off Wednesday in Halifax before its 700-mile journey to Tremont Street. The tree will weave its way through downtown Boston to the Common on Friday.
The tree also comes from provincially owned land this year, which local officials pridefully highlighted.
"This year, the tree is truly the people's tree," Lloyd Hines, Nova Scotia's minister of natural resources, said in a statement.
With the exception of 1981, the tree has been donated by private property owners in Nova Scotia, according to the Boston Parks and Recreation Department. Last year, it was given by a former Boston Marathoner, no less.
"It's a gift from the people of Nova Scotia, selected from public land, to be given to the people of Boston as a thank you for their help in our time of need all those years ago," Hines said.
The tree also maintains an active presence on social media.
Ainslie Glen, the community in which the tree is currently located, is near the Waycobah First Nation, a subdivision of the Mi'kmaq people. The indigenous group's ties with Massachusetts actually predate the Halifax Explosion by more than a century.
As Waycobah First Nation Chief Rod Googoo noted in a statement, the Mi'kmaq became the first nation to officially recognize the United States as an independent country when they signed the Watertown Treaty on July 19, 1776, shortly after the Declaration of Independence was ratified. The treaty, which is still celebrated every summer in Watertown, established a military alliance between the United States and the St. John's and Mi'kmaq tribes.
Tuesday's cutting ceremony will bring together multiple elements of the tree's homeland and culture. According to the Nova Scotia's Department of Natural Resources, the ceremony will include a performance by a Waycobah First Nation drum group and a Cape Breton fiddler and bagpiper. Santa Claus will also be in attendance.
Following its multi-stop, two-day flatbed truck ride south from Halifax to Boston this week, the tree will be officially lit on the Common on December 1 at approximately 7:55 p.m.